Part I of
Our Special Super Bowl Day Feature: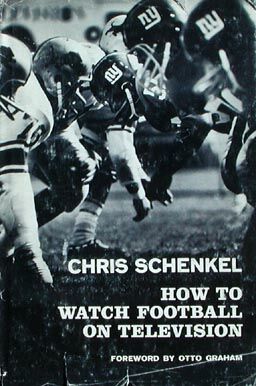 (Buy this book)
If there is one thing Americans do not need to be taught...

What's the companion volume? How to Drink Beer?
---
From the flyleaf:
"Red Dog" -- "Blitz" -- "Slot-T" -- "Automatic" -- "Stop and Go"

Thanks to the meteoric rise in interest in football through the medium of television these exotic terms have rapidly become a very special part of the American language. But are you sure you know exactly what they mean? Even if you do, do you know when these plays are apt to turn up during the course of a game? Do you know those minute differences in college and professional rules which may dictate totally opposing strategy in identical situations? Do you know how to "key" on a certain player? Do you, in short, know how to watch football?
No. Thank the stars in their courses, I do not. (I thought "Red Dog," "Blitz," "Slot-T," "Automatic," and "Stop and Go" were drinking and driving terms.)
---