Next
--------------
Index
--------------
Deuce of Clubs Book Club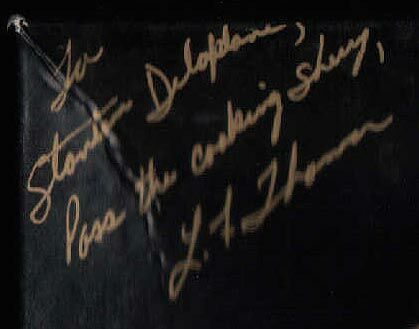 "To Stanton Delaplane, Pass the cooking sherry, L. F. Thomas [?]"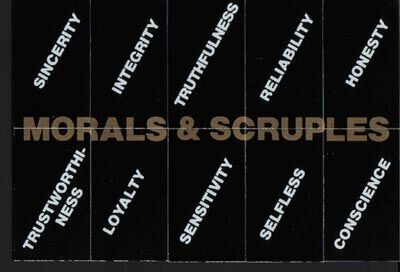 The makers of Morals & Scruples could have profited from a lesson in parallelism that surely a Pulitzer Prize-winning writer could have provided.
Morals & Scruples comes with tailored letters, addressed to such as "Back-stabber (business associate/competitor)," "Fellow human being (friend/lover)," "Low-life (professional)," "Thumbs (repairperson)," "Turkey-Lips (co-worker)," "Sleezo (broker/agent)."
Also included is a:
DISCLAIMER

The use of this product in certain situations could possibly be deemed to be defamatory or libelous. Libel is a false and unprivileged publication by writing, printing, or other fixed representation to the eye, which exposes any person to hatred, contempt, ridicule, or which causes the person to be shunned and avoided, or which has a tendency to injure him in his occupation. However, if a reasonable or fair-minded person would understand the writing as a joke, it is not actionably defamatory or libelous.
Comforting (as long as reasonable or fair-minded persons can still be found).
"Deemed to be defamatory or libelous"
Not a book, but unquestionably a dedication.
Jean writes:
"This is from a thrift store in Rohnert Park, CA. In the car on the way home I was trying to figure out why the name on the front seemed so familiar. As we pulled into the driveway I remembered. I guess what they say about driveways jogging the memory is true. I lived in San Francisco in the early 80s and remembered there was a writer for the SF newspaper named Stanton Delaplane. Delaplane was a well-known writer around here and was also famous for Irish Coffee at the Buena Vista in San Francisco. Somehow, incredibly, this gift to Stanton Delaplane ended up in a thrift store. Probably accidentally, considering the piece is valuable. For obvious reasons, I'm sending this San Francisco, California historically important item to Tempe, Arizona.
And don't think we don't appreciate it, for though we don't drink coffee of any nationality, Delaplane finds a place near the heart for winning a Pulitzer Prize for covering 1941's Free State of Jefferson effort, which was scotched by the ultrapatriotic tsunami following the bombing of Pearl Harbor. (The Free State Project, founded just previous to the destruction of the World Trade Center, might have been similarly stifled, but has thus far weathered the current jingoism).
---
Found inside: