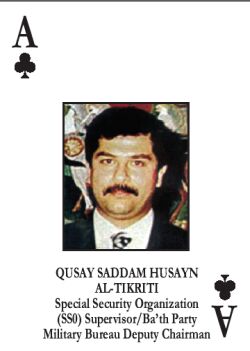 Son of Saddam
("I ... will ... KILL YOU DEAD!!!")
ATTENTION:
UGLA ABID SAQR AL-KUBAYSI FARTOO-MANYPUNS-HIR!
YOU ARE WANTED BY THE FORCES OF WASHINGTON, D.C. FOR HAVING SERVED A NON-WASHINGTON-APPROVED TYRANNY! (YOU MIGHT INSTEAD CONSIDER A POST IN KUWAIT OR SAUDI ARABIA, FOR EXAMPLE!)
ALSO, WE HAVE MADE YOU THE DEUCE OF CLUBS, LOWEST CARD IN THE DECK! IN YOUR FACE, UGLA ABID SAQR AL-KUBAYSI! YOUR OVOID, COLORLESS, FEATURELESS FACE!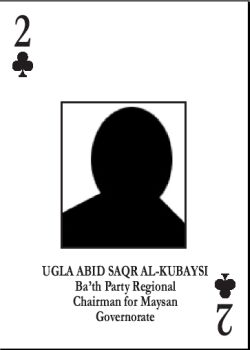 Ugla Abid Saqr al-Kubaysi
("This isn't the best photo of me, but I'd like you to have it anyway.")