MySpace "Top Friends List" as Blank Canvas:
An Experiment
It's 2008—and I'm new to MySpace. I recently made an account for the Mojave Phone Booth on the advice of the Cardhouse Robot, who's probably right about such a page possibly making itself useful somehow after the Mojave Phone Booth book is finished. [UPDATE: The Mojave Phone Booth book is finished and available for purchase!]
From the beginning, MySpace has seemed to me a giant step backward to the days of Geocities and Tripod pages where people would cram as much blinking text and as many animated .gifs as possible onto a single page with a ridiculously busy background that rendered all text illegible anyway.
But now, more or less in spite of myself, I am a MySpace user. So I got to thinking about other possible uses for a MySpace page. One I thought of—and I'd be surprised if I were the first—was to use the photos and text that make up the list of "Top Friends" work together as a larger whole.
For obvious reasons, I thought of Yeats's "The Second Coming." I decided to use the first stanza of the poem and broke the four lines into four parts each. These sixteen parts would become the "Top Friends" of a new MySpace user called The Second Coming.
I created seventeen new deuceofclubs.com email addresses to use in creating seventeen separate MySpace accounts, one for each part of the poem stanza. First I made one for The Second Coming. Next, I sliced up a nice portrait of William Butler Yeats into sixteen equal pieces. Then I began creating a MySpace account for each poem part.
| | |
| --- | --- |
| I was surprised that MySpace was cool about new members whose names had suspicious punctuation marks, such as semicolons and periods. | |
Finally, I had each part "friend" The Second Coming: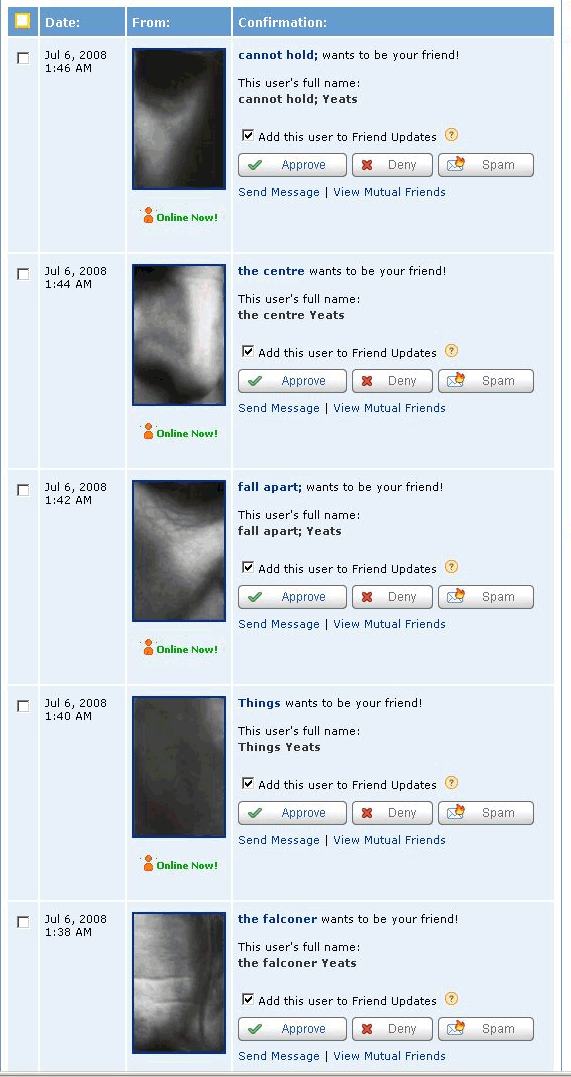 It's goofy to use friend as a verb. But I am a MySpace user now, and I'm not supposed to care.
My favorite friend request was: "the world. wants to be your friend!"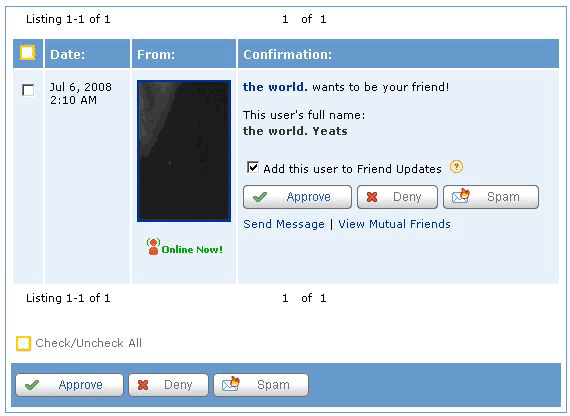 Sure thing, world. I guess having the world as my MySpace friend makes me the king of having MySpace friends.
My second favorite friend request was: "anarchy wants to be your friend!" I thought we were already old pals, but what the hell, you live once, right? Into the fold, anarchy.
It was so exciting when all my new friends began updating me immediately about their various activities. It was like I knew their every move! Especially because every move was the same—the adding of a component photo for the final mosaic: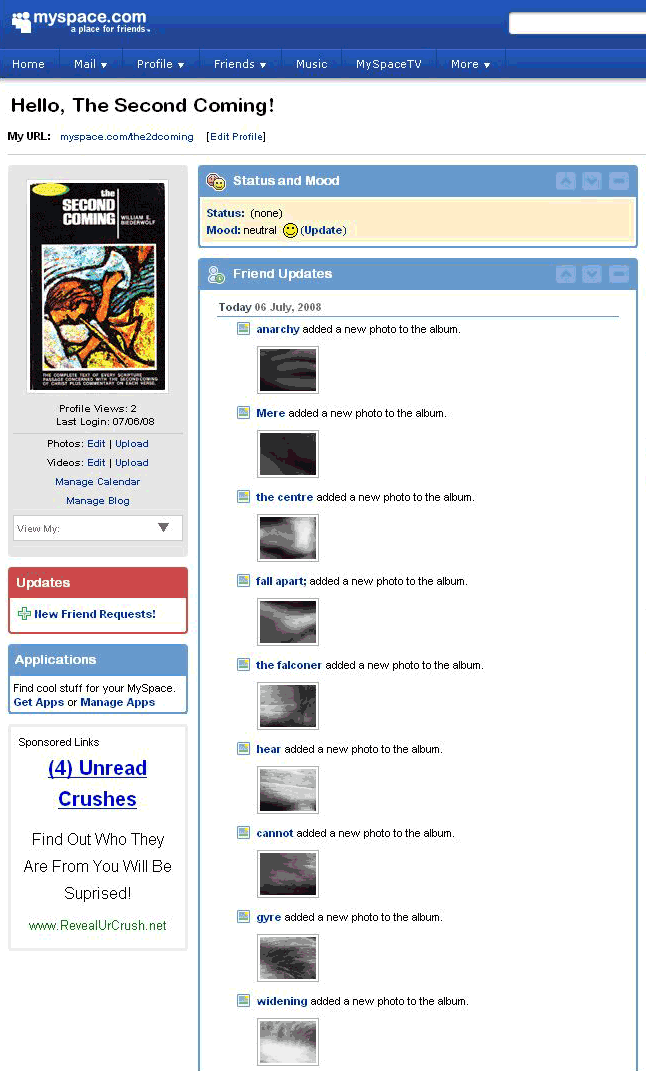 As a byproduct of accepting all these new and exciting friendships, the entire first stanza of "The Second Coming" appeared, in order, in the subject lines of the friend request emails with which MySpace filled my inbox: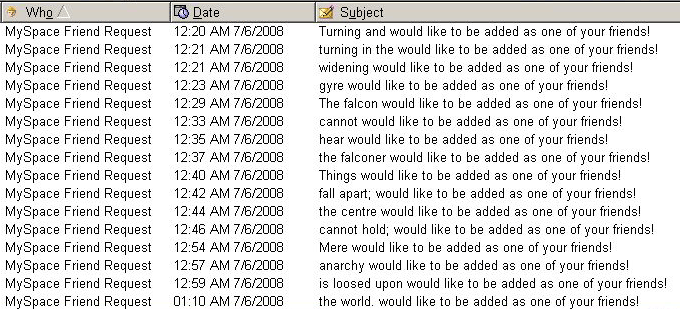 All that was left was to move my new Top Friends around like a slide puzzle. Good thing I'm manipulative that way.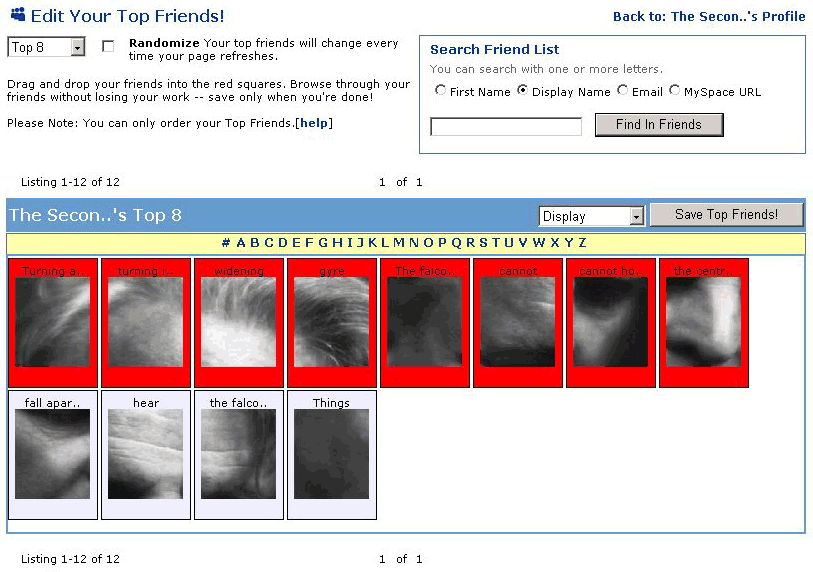 And there you have it, sports fans poetry lovers: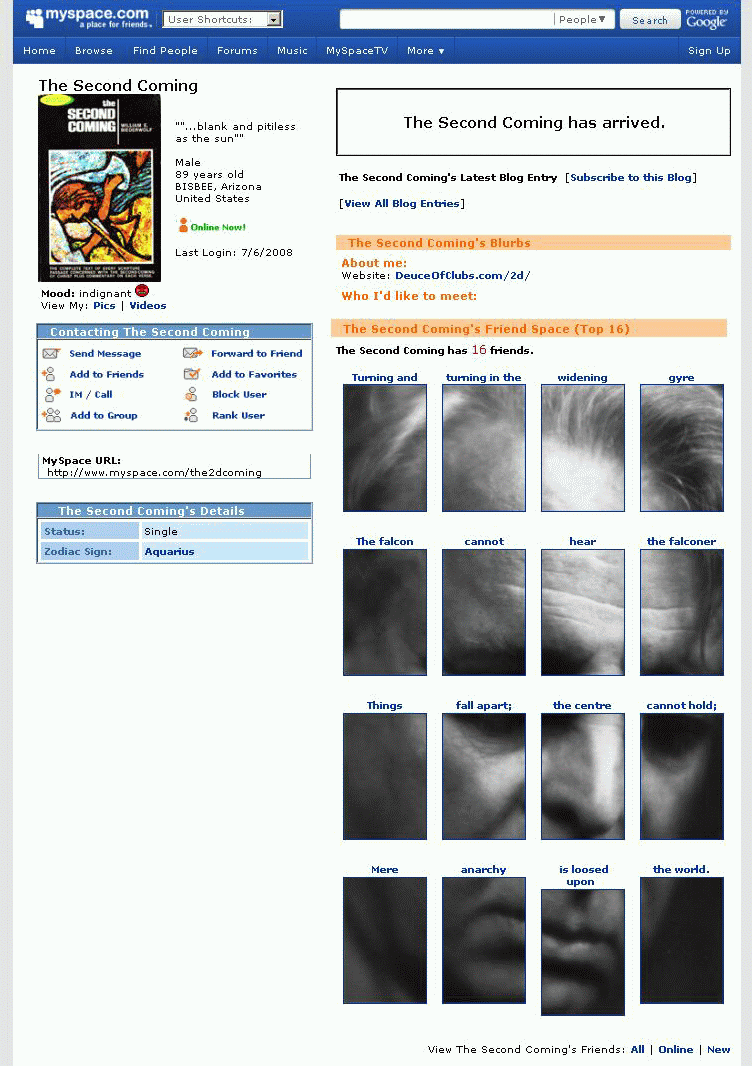 After I finished, all my new friends and I went to sleep. Aww.
When I woke up in the morning, I was alone. The minions of Tom from MySpace had deleted every single friend of The Second Coming. AWWW!

I guess the minions of Tom log IP addresses. Either that or they noticed all my new friends had the same last name (Yeats). And the same zip code. Maybe I should have mixed those up. But it was probably IP logging that did it, anyhow. Unless Tom just hates art. Or Yeats. Or me. Or moonlights for the NPS. Or the NSA.
Gee, Tom. I thought we were friends, man. I know I deleted you right off the bat, but only because you didn't fit the theme. (And damn, you didn't even give The Second Coming a chance to "blog.")
I had chosen "indignant" as The Second Coming's MySpace "mood" because of, you know . . . the desert birds. Actually, it was the only mood I found in the drop-down list that matched a word in the poem. But now the mood kind of fits.
I had planned to start experimenting with synchronized animated .gifs and other things, but with these hair-trigger minions on the job it can't be done alone. The idea could still work if a bunch of unique IP addresses—er, precious, unique human beings, I mean—were to create separate MySpace accounts. I've got a book to finish writing, but if you and your Top Friends (real or imagined) come up with something, let me know & I'll link it here. Buena suerte!