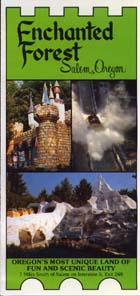 The Enchanted Forest is next door to Thrillville, U.S.A.
Wouldn't it almost have to be?
We got to The Enchanted Forest only twenty minutes before closing, but the girl at the counter wouldn't give us any kind of a break. "If you're going to stay for the whole twenty minutes, you have to pay the whole seven dollars." Brother.