Were my Raquel Welch and Michael Jackson portraits painted by Ted Bundy?
A question for Twisted Art Historians everywhere*
(*Not for me to decide, which noun Twisted modifies)
(UPDATES, JAN2020! — scroll down)
Just before leaving Phoenix years ago, Peter Gilstrap and Bettie Rinehart held a yard sale at which I bought a bass guitar amp, a bass guitar hand-painted with fish by Bettie, and two irresistible paintings. One depicts Raquel Welch in her Kansas City Bomber days; the other features a glittery, still identifiably black, single-glove-era Michael Jackson.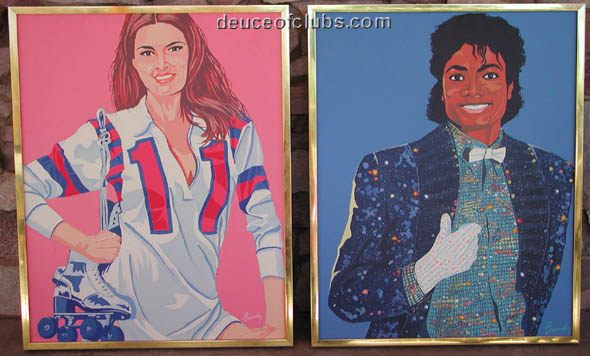 Each painting is signed in the lower right corner with a single name: Bundy.
Given Al Bundy's fictional ontology, the next-most-famous Bundy name has to be that of executed, electrocuted serial killer Theodore Robert "Ted" Bundy (sorry, McGeorge).
When he sold me the paintings, Gilstrap mentioned the possibility that they'd been painted by Ted Bundy. In 1996, Gilstrap (whom you may know from Jesus of the Week or "Snatching Sinatra") had written an article about them called "Was Ted Bundy Framed?" He tried to find out whether Ted Bundy really painted these two works. You should read Pete's article for the story. This page will still be here for you to return to when you're finished. No foolin'. Don't have time? Okay, I'll summarize: there is as yet no definitive answer.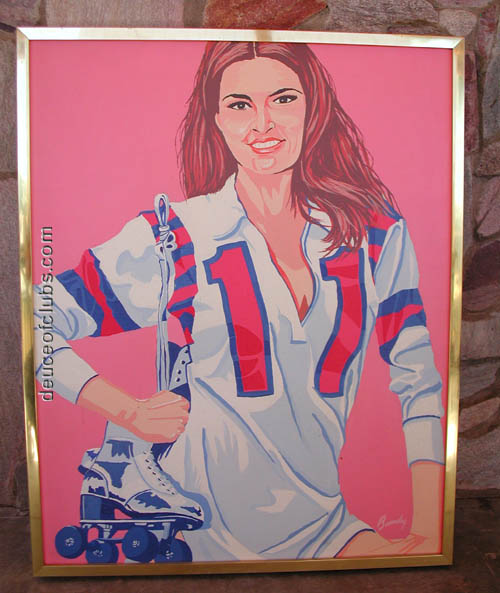 An Arizona State University art professor quoted in Gilstrap's article calls the paintings "competent illustrations, very student-competent." Professor Smartypants goes on to say that they're "Very commercial, and from that perspective, they're kind of mediocre."
I say, you can't discount the difficulty of painting a good likeness -- it isn't easy to do (which is the main reason that currency features representations of familiar faces).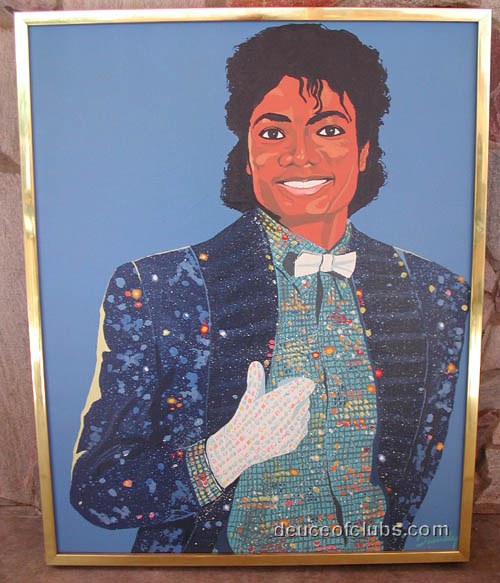 One thing I did not notice until photographing the paintings for this page: the Raquel Welch painting appears to have been signed not only by the mysterious Bundy but also by the Kansas City Bomber herself.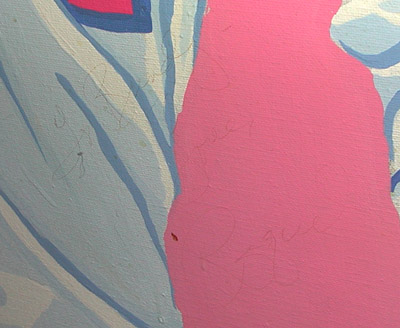 (Click the image for a larger version, which is much clearer.)
Though unfortunately signed with some sort of crappy pen, the writing is legible in certain types of light, and appears to say:
To Bundy --
Love,
Raquel
Is the Raquel autograph genuine? For comparison, here's another autograph claimed to be Raquel Welch's: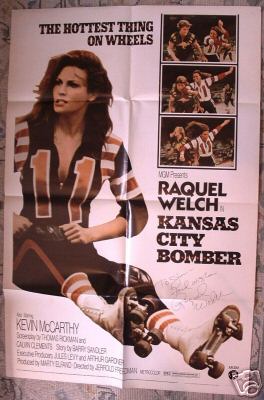 Closeup of same: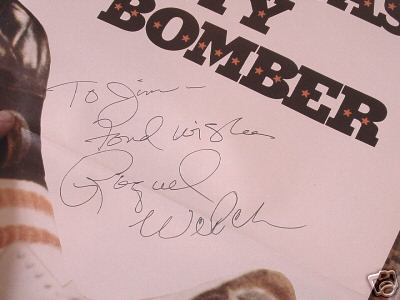 The painting has Love rather than Fond wishes, and no last name, just Raquel. Could that indicate familiarity with the painter? Another difference is the T in To -- one is cursive, the other block. The Raquels are fairly consistent with one another, and both inscriptions are slanted at about the same angle (though maybe that's just the position a right-handed person's arm would tend to end up in while signing a large item.)
It does seem odd that she'd sign it simply to "Bundy," with no first name (or last name, if Bundy is the artist's first name). One could argue that this indicates that she knew the artist, but someone else could just as well say that she was only copying the artist's name as signed on the painting.
Can you help solve this mystery? If you:
• know whether Ted Bundy painted, or
• know of another likely artist named Bundy, or
• have any other information that could be of help, or maybe even
• know Raquel Welch personally
...please contact DoC. (See responses below....)
---
Update, January 2020: A Bundy painting surfaced a few years back on eBay and is still for sale on OfferUp IF you happen to have a spare $25k. I haven't found the source material for the painting, but it does appear to be some version of The Lone Ranger: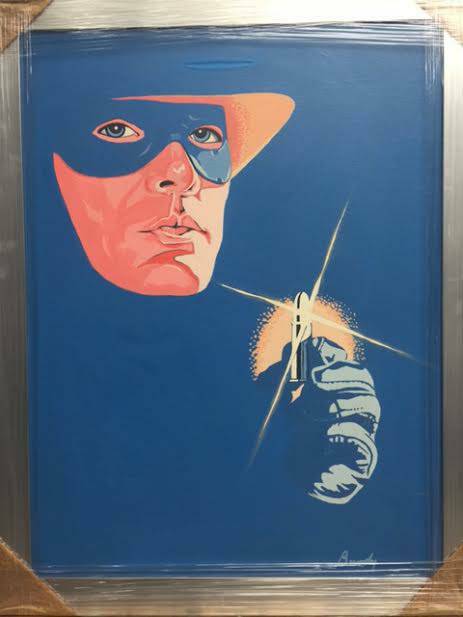 ---
Comments:
From: nick s.
Date: Sat, 21 May 2005
Hi,
I unfortunately have no information to offer you regarding the authenticity of these paintings, but I was wondering if perhaps anyone had? In other words I was wondering if you have been able to prove that they were by Ted Bundy? I am a collector of serial killer art and would be very intrigued to know i they were or were not painted by Bundy.
no word on it yet. i've been hoping some serial killer collector expert such as yourself would be able to tell me.
do you know of any samples of ted bundy art to which mine could be compared?
I wouldn't really call myself an expert I do know of most serial killers that painted or have dabbled in artwork to some degree. As far as I know Bundy did not produce much artwork and most people that I have spoken to do not know either, mainly because Bundy was executed before serial killer art was really collected by many people. I have been told that he did a few drawings in prison, so I would not rule out the possibility of him painting, but I have no specific examples to compare them too, that is why I emailed you to see if you had found out any info. If you do find anything out let me know as I would be very interested to find out the outcome. Put it this way, if they are real then they would be very valuable as no known Bundy artwork has been circulated. Good luck finding out some info and I hope you do find out if they are austhentic or not.
---
From: Bruce L.
Date: Sat, 16 Sep 2006
I was one of Ted Bundy's lawyers in Utah in 1975-76, and I stayed in touch with him when he was in Colorado and Floriday. He gave most of his possessions when he left Utah, extradited to Colorado. I got most of his writings and books and his desk, prison clothing, etc. There were no paintings of any kind that he gave me. When he left the Utah Prison he gave me most of his "stuff" (which was not much) and there were no paintings. I do not know if he did anything while in Florida on death row, but it seems to me unlikely. I never saw any paintings nor heard of any paintings he did, and his wife Carole Boone wrote me several times. I sent her most of the stuff I got in 1976, and there were no paintings. I hope this helps some.
indeed it does, sir. gracias.
---
Date: Tue, 30 Dec 2008
From: Richard A. Duffus
Ted's best friend in FSP was Bobby Lewis. According to then Alachua County prosecutor Rod Smith, "they were tight." Lewis has said that Bundy couldn't paint but that he did collaborate with Bundy on one piece in an effort to teach him to paint. The resulting work is good, a detailed image of a beached, derelict shrimp boat. Bundy did sketch. In July 1986 Lewis sent me two photographs that, when taken together, depicted a very large sketch leaning up against an automoblie and bearing the signature "Ted Bundy." The signature appears genuine, but it has not undergone forensic examination. According to Lewis, it was a sketch his wife had. It was most likely drawn before his incarceration. Prison officials knew that Bundy was doing sketches, according to reports from the guards, but no one knows what happened to them. They did monitor Bundy's mail. But they didn't monitor Lewis' mail.
thanks for the information!
wait, so . . . that means you think possibly yes? or probably no?
probably no, in my opinion. I would expect them to be signed "Ted Bundy" and they seem to cheery for Ted to have produced. I learned about these when Peter wrote about them and have always been interested to see if anyone could learn anything about them. The painted over written message you found is interesting.
thanks—i appreciate your taking the time to comment
---
Date: Wed, 7 Jan 2009
From: anonymous art aficionado
Subject: We Have A Bundy Painting of Neil Diamond!
hello doc,
my husband bought a painting of Neil Diamond at a garage sale in Denver for around $10 about 5 years ago (although a price tag on the side lists the portrait at $250.00 and a yellow bidding tag on the bag indicates that it had been auctioned at one point) and it has to be by the same Bundy that painted your paintings. he bought the painting more because it is aesthetically pleasing in a way and just kinda silly, the possibility that it was painted by the infamous Bundy only occurred months later. i don't know what made me google it today but i was surprised to see at least a couple more by the same artist exist and that there is speculation the serial killer painted them. i don't know much about Ted Bundy, but apparently he did spend some time in colorado, and from the writing samples i've found online, the signature is not too far off. but the image is from The Jazz Singer which was released in 1980, after Bundy was arrested, so if he did paint them he was already in jail. none of this really helps you but maybe you will find it interesting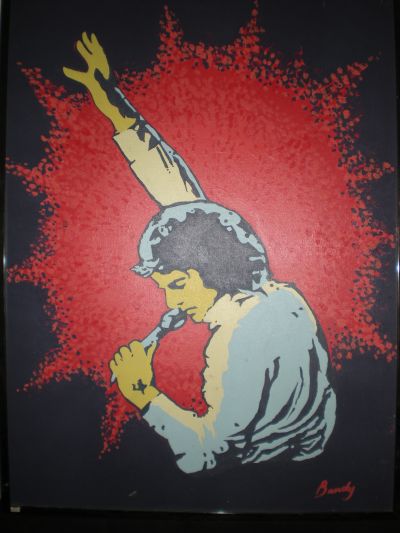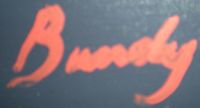 O
M
G
!
!
the best i ever hoped for by posting photos of the paintings was maybe some info on the artist . . . i never would've dared to hope that other bundy works would come to light! thank you so much! maybe this is a good omen, and this will be the year we find out who bundy really is.
doc
p.s. -- have you examined neil closely for a neil diamond autograph?
nope, no signature, but it is larger that the ones you own, its on a 30x40 canvas; i wonder if there is any info hidden on the back of the canvas... if i get around to disassembling it at some point and find anything interesting, i'll let you know!
---
Date: Wed, 7 Jan 2009
From: Bettie Rinehart
it looks like he's singing in front of splattered blood!
you must uncover the mystery of bundy
---
From: Gina O.
Date: 7 Feb 2020
Just wondering if you've figured anything else out regarding the Bundy paintings... Nothing on your article for 10 years. Are you out there? I seem to have come across another Bundy painting... Here's some pictures. I have it in my collection and am interested to know if you've managed to learn anything about the paintings in the last decade.
Nope, Bundy is still a mystery! Yours appears to be James Caan, yes?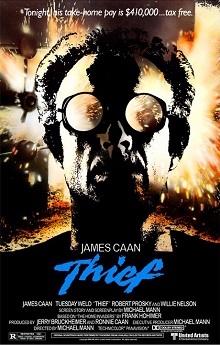 Holy crap! I've tried to find the picture this painting was based on but never had any luck!!! James Caan it is! Hmm when was this movie made?
Thief is from 1981. Whoever this Bundy artist is (or was) was I think working in Colorado because the guy who had the Lone Ranger painting said it was from a gallery in Colorado. Did the eBay seller you bought yours from have any information at all about the artist? Where did you find this one?
Nope. No info from the seller other than picked it up from an estate sale in Colorado... I purchased it on eBay about a year ago and I think I paid $120 for it. The person who sold it to me seemed to think it was Warren Beatty, which I can see. There's a small amount of damage to the canvas but overall it's in great condition. I'm a Ted Bundy collector and have an eBay search notification for Bundy items which is how I came across it. It came from Colorado. Now it's living with me in Florida. Kinda funny huh? Given Ted Bundy's travels...
---