! 1996sep08 gd>


---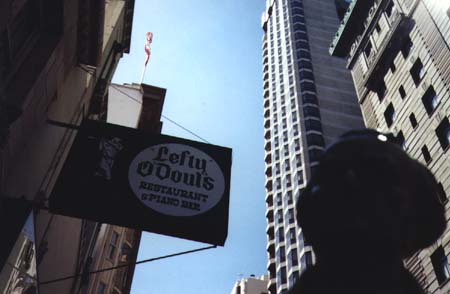 We Stumble Into Lefty's
Which I think is a place you're supposed to stumble out of. But they have a killer lunch buffet and walls covered with old, old baseball stuff. I mean, if you have a portrait of Ruth & Gehrig, signed by both of them (which didn't happen that much because they feuded for years), you DON'T just hang it on the wall in a public place. Unless you're Lefty. (Or unless it's fake. But Lefty wouldn't have done that. Wouldn't even have needed to.)
W's Best of Show: A toss-up between:
the giant-sized copy of Marilyn Monroe's official DOD USO ID card, issued to "Norma Jean DiMaggio" (click here for a photo of a small--and regrettably blurry--copy)
and
a photograph of Lou Gehrig signed by Eleanor Gehrig (Lou's spousal unit), thanking Lefty for his "sweetness to Lou."

Sadly, I don't have a picture of the second item, but here's a Lefty's cocktail napkin (Bonus: it's used!).

---