X Magazine editor Mark Simple made a promise a few years ago:
X Mag Staff Car:
The Pre-Lucky Years
We will be serving up a proper telling of the Staff Car Death in a few weeks, and you can while away your time between now and then by thinking globally and acting locally (start with Dysart, Iowa). Thank you.
A few weeks became nearly four years, and X Magazine became Cardhouse, but I'm finally getting around to fulfilling that promise.
---
It all started because my job (I had a job back then) was getting me down. I needed a trip. Not just any trip. I needed a 454cc, high-octane RAMPAGE to rev me up.
Fortunately, X Magazine came through.
In late November, 1994, Detroit's X Magazine ("Music and/or Humor"), of which I am a Señor Editor, announced a raffle. The prize: the X Magazine staff car, a 1974 Pontiac Grand Ville whose roof had been sawed off in a wildly successful bid to achieve the White Trash Cheapass Convertible look. (It also turned out to be a wildly successful bid to destroy the structural integrity of the car--but more on that later.)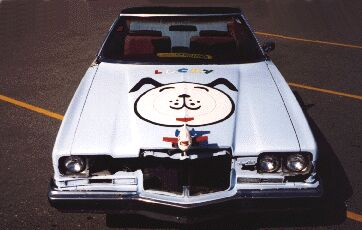 (All photos on this page courtesy of Mark Simple.)
The X Magazine Staff Car was painted to resemble a yellow cab--from a distance. A distance of, say, thirty city blocks. I mean, when's the last time you saw a yellow cab with the roof sawed off? Or with a huge "X" painted on the hood? Nevertheless, it was not unheard-of for the Staff Car to be flagged down by unsuspecting (read: moronic) would-be passengers.
Before long, the cab thing got old and another social experiment was called for. In these situations, Fisher-Price products always seem to provide the answer. Accordingly, Mark repainted the car with Fisher-Price Little People. Replacing the huge hood "X": the gigantic, ever-grinning face of Lucky the Dog.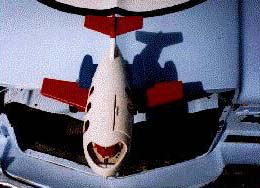 Lucky's Hood Ornament:
The Fisher-Price Plane
I called X Magazine and screamed at them. Gimme the car! Gimme the car! GIMME THE CAR! Why should they give me the car, they wanted to know. Well, I said, I would fly out to Detroit, drive the roofless Lucky all the way back to Arizona in the dead of winter, videotape the experience with my Fisher-Price PXL-2000 toy video camera (see? Fisher-Price comes through again!), and make daily reports of the experience for worldwide Internet consumption. Oh--and I promised to wear a Santa suit all the way.
X Magazine editor Mark Simple immediately pronounced the raffle closed and awarded the Lucky car to a happy reader in Arizona.