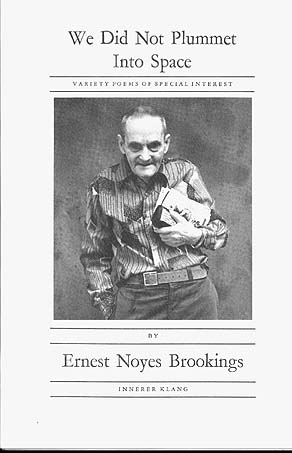 This is one of the most beautiful books in my library.
(It seemed an appropriate choice for this week's Book of the Week, in light of the fizzle that was the Y2K Disaster. Not only did we not plummet ... Wall Street didn't plummet, the banking system didn't collapse, and my supply line of sweet tarts wasn't even threatened. What kind of apocalypse is that?)
Anyhow. There doesn't seem to be a history of Ernest Noyes Brookings on the web yet, so I'll have to give a brief description here.
David Greenberger worked at a Boston nursing home called the Duplex. To keep the seniors alert and interested in things, David would ask them questions and write down their answers. Then he would make a little zine to hand out to the Duplex residents. Turned out that the seniors weren't as interested in the zine as David's friends, so he began distributing the zine -- called Duplex Planet -- to a wider audience. Eventually it became one of the most popular zines of the 80s.
One of the Duplex seniors was a former engineer named Ernest Noyes Brookings. (I don't know whether he was related to John Humphrey Noyes; let's hope not.) Greenberger encouraged Brookings to try writing poetry. How many could have predicted that an 82-year-old would take to poetry the way Ernie did? Probably no more than could have predicted the late-life career of Grandma Moses. In any case, Ernie became a prolific poet.
Brookings died in 1987, but he left behind a fairly large collection of poems on any number of subjects (often suggested by Greenberger). Usually they have terse titles, such as "Water," "Robot," "Navy," or "Candy." The titles were the simplest part of his poems, which -- in spite of their traditional rhyme schemes (and sometimes because of them) -- could be quite complex. Which is not to say that they always make what most people would call "sense." As if that matters.
Here's a sample (from Duplex Planet #109):
BABY MACARONI

Baby infant macaroni
Used to flavor various soups
Never rode a pony
Often separated from groups

In addition to other food
Used to flavor delicious meals
Small wafers in the nude
Never saw an angry seal

As babies they are small
Add savor to the taste
Never saw a plastic doll
Have they any waist?

Patron in a coffee shop
It's delicious, will have seconds
The babies did not pop
But the proprietor beckons

One baby to his brother
Do not shed any tears
Audibly smother
Can macaroni speak? No
But mentally the gang's all here
(If they could speak it would be audibly so)
Ernest's poems caught on fast, but thankfully, fame did not ruin Ernest Noyes Brookings. When he learned that some of his poems were to be collected in a book, his response was to inquire whether he might have a copy.
We Did Not Plummet Into Space is full of great Ernie poems. Given that it seems to be no longer in print, there's a strong temptation to reproduce a bunch of them right here. Instead, here's the end of a poem called "MY JOBS." Ponder it, then buy David Greenberger's excellent Duplex Planet book.
After returning from midwest
Went to my home 2 Hill Place
God organized all the rest
We did not plummet into space.
---
(There is also a series of compilations consisting of musical interpretations of Ernest's poems by such bands as Brave Combo, XTC, and Birdsongs of the Mesozoic. I don't know how many are still available, but Place of General Happiness is still listed as available.)
---
Update, 4/2003: The Brookings House at DuplexPlanet.com is now open for visitation.
---