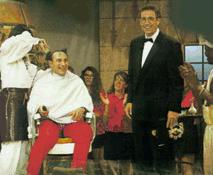 Flequi (at left) takes another victim.
It seemed impossible to contact the show (at Madrid's Antena 3). A break came when a contract loomed -- in Madrid! But nothing moved on it, and Burning Man was coming up again. It's not fun to have hair at Burning Man.

An alternate plan was required.