Then I turned the logo upside-down. I was sure a like-minded artist had left a message commenting on these stupid surveys: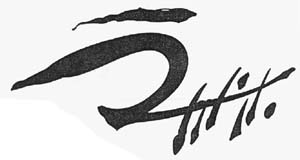 I figured it had to be intentional. There's no other reason for the otherwise superfluous pen strokes and marks. Also, the survey company's name was Campbell-Hallam, yet in the logo the letters appeared in backward order: HC instead of CH.
Suddenly overcome by the spirit of teamwork, I shared my discovery with the rest of the "team."
They were less than enthusiastic, except for one woman. She claimed she knew the person who had worked on the design for Tucson's El Con Mall and that he had intentionally worked the same word over & over -- upside-down -- into the mall's pseudo-tribal decoration.
And that's why Wagner was at El Con Mall. And it turned out the woman was right: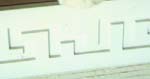 Update, October 2000: Does my photo violate an El Con Mall Rule?
Update, April 2009: An historical antecedent.