--------------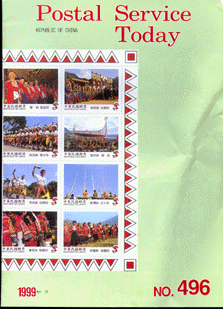 In the article, "Taiwan's Aboriginal Culture Postage Stamps To Be Released on April 22," we read of a stamp commemorating "Saisiat -- Festival of the Dwarfs: This festival commemorates the legendary dwarfs who taught the Saisiat how to farm. It acknowledges Saisiat gratitude to these dwarfs, as well as the resentment the dwarfs must feel toward the Saisiat. (According to legend, after learning the dwarfs' farming skills, the Saisiat pushed the dwarfs off a bridge, fearing that the little men desired their women.)"
"The Important French Airport Signs That Postal Workers on Holiday Must Observe." As the author of the article, Solomon Ta Tsung Chang (selector, designer, computerizer, and annotator of "The Earliest Surviving Valentine in English History") , says, "Even if you break a rule unintentionally, it can be frightening to be approached by a policeman (gendarme in French) speaking French in which you may have limited fluency or even ignorance. When I traveled in France several years ago, I saw these eye-catching signs in Charles de Gaule airport building. They were written completely in French. I noted them down and arranged them systematically. By the way, Charles De Gaule (1890-1970) was the former president of France."
A selection of important French signs:
Ne mettez pas votre securite in peril: n'acceptez aucaun bagage d'une autre personne.
Do not put your security in peril: do not accept any baggage of another person.
Les regalements en vigueur imposent l'inspection des passagers et des bagages a main lors de controle de securite.
The treatment in force imposes the inspection of passengers and luggage in hand at the time of safety checking.
Pour des raisons de securite, tout objet abandonne peut etre detruit par les services des police.
For some grounds of security, all abandoned objects could be destroyed by police service.
Les passagers transportant des armes sans les declarer ou chargees sont possibles d'une amende de 1000 dollars ou equivalent.
The passengers transporting weapons without having them declared or held responsible is possibly subject to a fine of 1,000 dollars or equivalent.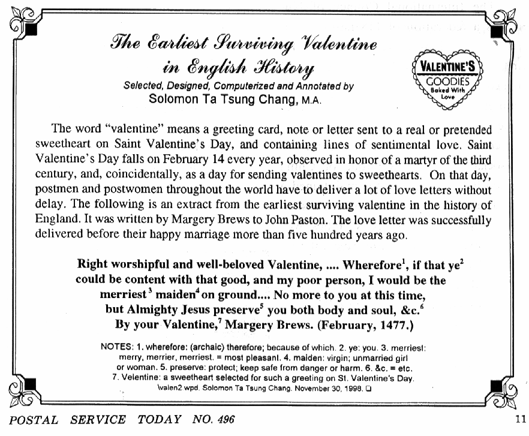 From "Tidbits from Post Offices" (finally, some actual "Postal Service News"):
Yungho Post Office
"To appreciate employees' hard work during the Chinese Lunar New Year season, postmaster Chuang and deputy postmaster Yao, visited all branch offices, delivering apples, oranges and other fruits. They also gave instructions on how to tell dangerous items among postal parcels, and how to safely handle them."
Hsintien Post Office
"Our post office always avails every opportunity to promote the importance of writing zip codes, the philatelic service and the Postal Simple Life Insurance service. On March 7, 1999, a garden party for the 19th founding anniversary of Ankang High School was held at Hsintien. We grasp the chance and set up a stand to show various stamps and to promote postal services."
Yuanlin Post Office
"A contest named `Promotion for the writing of zip codes and using standard envelopes' was held by the Central Regional Post Office. After several months' competition, our post office got the first prize among all first class offices. All employees were joyful upon hearing the news. To appreciate postal customers' long-standing support to the post office, a raffle drawing activity entitled `You open a postal account, we give you gifts' was held.
Hsinchuang Post Office
"The expansion of the post office has been completed. On the morning of March 4, Postmaster Chen, Postmaster Wu of the Northern Regional Post Office, Hsinchuang City Mayor Hu Wang-ling, Legislator Tsai, and local dignitaries jointly presided over the ribbon-cutting ceremony. A lion dance highlighted the event."

Note: The article title "Plant Drugs on Postage Stamps" is not in the imperative tense, and does not urge introducing mind-altering chemicals (or, "lacing") postage stamps.