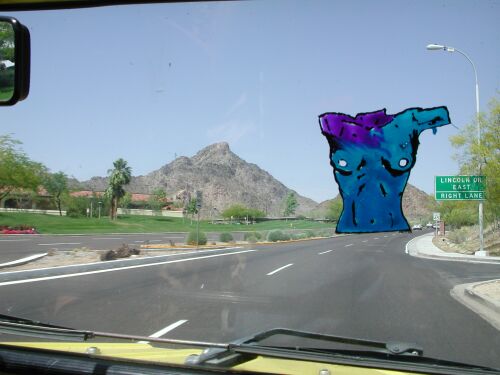 Last month, in contravention of both decency and convention (persons after whom geographical features are to be named are required to be dead for no fewer than five years), Arizona governor Janet Napolitano (not to be confused with the significantly less annoying Johnette Napolitano of Concrete Blonde) bullied The State Board on Geographic and Historic Names (who might well consider setting their own house in order in the name department) into renaming the peak after the late Lori Piestawa, a Hopi tribal member and U. S. soldier, in honor of her brave and courageous blind order-following as part of a strategic Wrong Turn Operation in Iraq that led all involved to blunder into ambush and a pointless early grave.
(These things will happen when you sign on to help invade land that belongs to other people: cf. the brave and heroic deaths to which armies of European order-followers marched when they invaded the Americas at the pleasure of their rulers, who were, as rulers always are, safe and securely guarded back in the fathermotherhomeland.)
If they were looking for an Arizona tribal hero after whom to name the peak, why not someone such as Cochise, who fought against tyranny, rather than on behalf of it?
There's no question that some names are grotesque and offensive. Who doesn't think that the football team that plays in the nation's capitol couldn't choose a better name than Redskins, for the love of all that is not boneheaded, even in the boneheaded world of football? But does squaw fall into the same category as redskin? The question may not have as clear an answer as many people seem to be assuming.
Of course, controversy could have been avoided and propriety restored with the swift adoption of my suggested replacement name, Bra Peak.
But, no. In our brazen Arizona society of today, in which legislators permit nippled, nubile mountains to prance around bra-less and unashamed, modesty is clearly no longer properly valued. Except by my niece.