Harvey signed a copy of Mein Camp (from the Hairy Larvae book signing), complimenting the design (thank you), saying he had a couple of copies at home. (This is the same Mein Camp that debuted at Burning Man 99.) He didn't have the Larry Harvey Speaks that Ted Casino designed, so I gave him one.
Max was like a mastiff, peppering the guy with question after question and reaming him.
Max:
[Gave him guff] ...for taking away the Disgruntled Postal Workers guns and banning tiki torches due to some asshole bman organizer burning his own tent down, and banning fireworks - that was just ridiculous. Plus that it would be a good idea to just sell out to Pepsi cuz it would be organized better and we'd get free t-shirts or ice cream. He agreed and played along. Mostly he tried to bore us to death with his standard long winded answers.
About the guns all I caught was something about a "controlled community" before I phased out due to sheer boredom, I mentioned something about the controlled community of Compton and he seemed confused, I then said "bohemians are usually responsible gun owners don'tcha think?"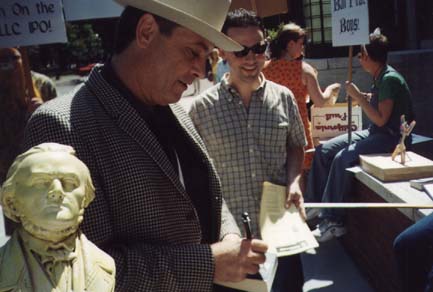 (Difficult to see the signature, but it's there. Should've brought a Sharpie.)