Mr. Boone was tickled to pose with Wagner, being a big fan. He volunteered the name of his favorite Wagner opera: Parsifal. That makes two of us, my friend. (Coincidentally, Mr. Boone also said he'd been to The Superstition Mountains half a dozen times, to look for the Dutchman's gold.)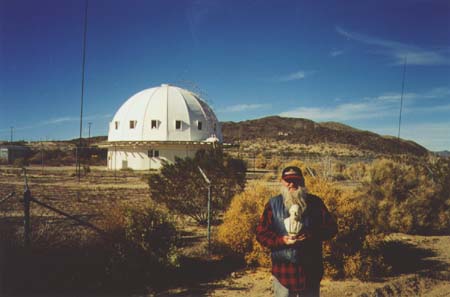 Just then, a truck appeared on the tiny road, blocked by both Whip It! and Daniel's car. It was another Van Tassel son-in-law. I smiled at him as I ran to Whip It! He glowered. I pulled Whip It! off the road and into the mud and got stuck. Daniel's car wouldn't start. We pushed it out of the way & let Mr. Grumpy drive by.
We worked on Daniel's car but couldn't get it going. At that point, Daniel Boone started to get jumpy. He urged us to get those cars out of there pronto, characterizing Mr. Grumpy as a "paranoid" person who "likes to make trouble."
A friendly guy wearing a Phoenix Coyotes ballcap pulled up in a truck and helped Daniel get his car started. Mr. Boone told me to "try & stay out of girl trouble." (Had I mentioned the Girl Trouble / Mojave Phone Booth connection? I don't remember. But then, I don't stay out of girl trouble, either.) We headed off for Giant Rock Airport.