! 1996sep20 gd>


---
I had a few pix left on a roll that I needed to use up. As I left the house, I thought: I should take W with me. You never know...

But I decided against it--it was hot, and I hate having to leave the windows cracked for the old boy.

Anyway, on the way home, what pulls in front of me but this car: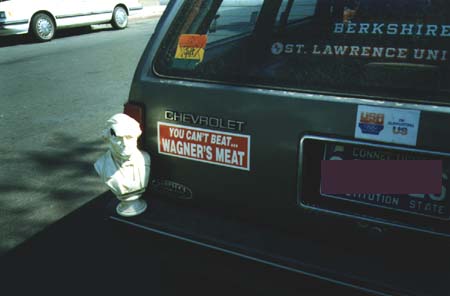 AND I DON'T HAVE W WITH ME!!!
So of course I had to follow her.
And follow her I did. I would've made a stalker proud. I noted down the Connecticut license plate # and decided that if I lost her, I'd call information in Connecticut to see if they had a listing for Wagner's (deli? market? what?). After several miles, she finally came to light just off Mill Avenue. I parked nearby and ran over to explain myself. I hoped I hadn't scared her, but she had some Rasta stickers on her rear window, so I figured she'd be cool. She was. She gave me her # so I could arrange a photo time. (Thanks Dani!) Turns out the sticker was from a place in New Orleans, so that Connecticut idea would have been a bust.
Shortly thereafter, I was talking with New Orleans native Charles Levy, the booking agent over at Nita's Hideaway. He said he was going back down south for a visit soon, & would look for the place & get me a sticker.
I thought, yeah, that'll happen.
About a week later I get a phone call. "Doc. Charlie. Got your stickers." Seems he was eating ribs at 2 a.m. at a place called Miss Hennessy's BBQ (Claiborne Avenue & Martin Luther King, if you're interested), when he looked up from his heaping plate, glanced out the window, and saw a sign: "Wagner's Meat." Having made a mental note, he returned the next day and picked up stickers from the owner ("Everybody wants these stickers, man!"), who was delighted that they were heading out of state ("They goin' to ARIZONA, man!" he announced to his customers).

I'd have inserted a photo of W with the sticker(s), but he's in Boston. Maybe when he gets back. But anyone who wants to see my sticker(s) in person can follow me to the Art Car Ball in Houston (April, 1997).


Special Above-&-Beyond Award to Mr. Charles Levy, who both desires and deserves to be famous.
---