Deuce of Clubs interviews Rainer Ptacek
(First published in Planet Magazine, 06jun1995)
Rainer Ptacek
7jun1951—12nov1997
R.I.P.
"Robert Johnson himself, were he to be miraculously resurrected, could hardly hope for better press than the American blues guitarist Rainer has recently received."
Such was the observation of one Irish magazine concerning the universal acclaim European music critics have piled on Arizona's own Rainer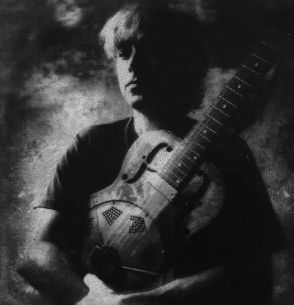 Ptacek. Oddly enough, the German-born Rainer, a former member of Tucson's Giant Sand and sometime leader of the mysterious Das Combo, has played Phoenix only a couple of times—which is Phoenix's loss, because Rainer isn't your average local bluesman pumping out the same old sounds. His music—particularly the acoustic stuff—is almost uniquely appealing: there's a spooky strangeness to it, a little bit Ry Cooder, a little bit Willie Johnson, and, as his European fans all know, a whole lot Robert Johnson.
For Rainer, comparison to Robert Johnson is the ultimate form of compliment. "Robert Johnson was the first thing that really took the top of my head right off," he remembers. "I mean, I'm of the generation that came of age musically in the 60s. I was very influenced by English blues bands—Fleetwood Mac, John Mayall, the Rolling Stones. The first couple of Rolling Stones albums were great records. And then, of course, you start reading where these songs were taken from, and logically everything kind of points back to Robert Johnson."
While Johnson "is still number one," another of Rainer's favorites is J. B. Lenoir, whose song "Voodoo Music" appears on Rainer's latest CD, D.Y.O. "[Lenoir's] got songs that would just blow your mind! His acoustic recordings I would put right up there with Robert Johnson. And there are not very many people that can touch Robert Johnson."
Rainer has a real sense of the history of the blues, and a genuine fan's love for it, which you can hear in his voice as he talks about it. "There was this session where Willie Dixon came over to [Lenoir's] house, and you can actually see—if you close your eyes—the tape recorder on the kitchen table. And here's Willie Dixon singing harmony parts to these songs that, of course, he knows by heart because he's been friends with J. B. for all these years and he's been out to the clubs and played these same damn songs in the clubs. And here they are at the kitchen table and they're singing together and it's just beautiful."
Unfortunately, such recordings aren't always easy to find— in America. "The ones that were released in this country became cut-outs after a year or two," he says. "They're really hard to find. The stuff that's easier to find is [Lenoir's] Chess recordings, where he did these band recordings, these Chicago-ish kind of band recordings. Which are okay, if you like that Chicago sound, that kind of Little Walter/Muddy Waters kind of thing. But his later recordings are all-acoustic recordings, with nothing but maybe his wife playing finger cymbals or somebody on a snare and a high-hat in the background."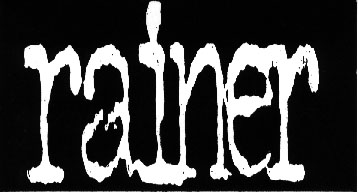 It's odd that the blues—the quintessential American music—should be more popular in Europe than in America, and that many essential blues recordings, such as Lenoir's, should be available in America only as imports. But Europeans "are totally into blues music. They're brought up to respect American music— jazz music, blues music—as some holy kind of thing, because it's unusual to them, an exotic kind of thing." One thinks of Josephine Baker and Billie Holiday, who a couple of generations ago found an acceptance in Europe that they could not find back home. "Right. Almost like we recognize English pop bands; anything that's not local is put on a pedestal," Rainer says. "Even [European] kids that you would look at and never suspect that they knew what they were talking about come up with these names of recordings that you would never have heard of: `Oh, did you hear of such-and-such on such-and-such date with so-and-so?' `Uh...no, I haven't.' They're like, `Oh, you should check it out, it's really good!'" Rainer must love combing European used record stores. "Yeah. They've got a lot of great stuff. I mean, all the best recordings, it seems like, are import. It's kind of sad."
Rainer himself still has no American record deal, yet he's philosophical about his lack of impact in America thus far. "People from your home town are usually the last to recognize you, and you have to go outside and be recognized on some other metaphoric `stage' and then come back home in order for people to say, `Oh yeah, I knew that guy when he played at such-and-such.' But that never would have happened if the guy hadn't played the same things in town for all those years."
Rainer counts many notables among his fans across the Atlantic (such as Robert Plant, with whom Rainer has recorded), but though he jokingly refers to himself as "world famous...in Holland," Europe's guitar hero still holds down a day job back in the states, repairing guitars at a Tucson music shop. But Rainer isn't the typical day-job-hating musician. "I like my day job," he says. "The work that I do is very rewarding for me. It's working with my hands, fixing things. I like that, bringing broken instruments back to life. I've been doing that for the last twenty-some years, so by now there's like, nothing that really scares me about it."
Rainer may not want to ditch his day job, but that doesn't mean he's ditched his hopes for success in America. "I would like to get to the point of being able to tour in the states. That would be nice, having a record out in the states. That would be really nice. But I'm old enough to realize that things like that happen very rarely, where someone comes and hands you your record contract on a silver platter and everything turns out wonderful. It's kind of like these dreams of winning the lottery. And then when you actually win the lottery, you lose all your friends and nobody likes you and you wish you never would have won the thing. So I'm kind of realistic about the music business. It's a screwy business. And as far as wanting to give up my day job—I like my day job." So we can count on Rainer staying in Tucson? "Yeah. I like it down here. It's a great place."