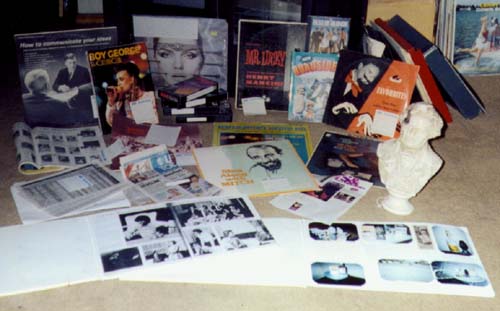 ---


List O' Items
[Note: Jean's words appear in blue]

---
---
Item: Scrapbook I
---
Dear Deuce,
I called the phone booth last Saturday night but there was no answer or it was busy. I looked on your website and saw that you had to retreat because of a blizzard! I'm writing because I had three jokes and a song for you if I got through Saturday night. But since I didn't I thought I would send it to you then things got out of hand and I started to think of other stuff to send. Anyway here are the jokes:
A Desert Joke

What did one pile of sand say to the other?

Whatcha dune tonight?

Tribute to Phone Booth Joke

Knock Knock

Who's there?

Isabel

Isabel who

Isabel ringing?

Burning Man Joke

What do you call a jacket that goes up in flames?

A Blazer
Stupid jokes -- yes I know. I also wanted to nominate a theme song for your booth gathering. It is the infamous "Call Me" by Blondie. I wanted to play it for you over the phone then hang up so you could all discuss (1) whether you even want a theme song (2) the compelling lyrics of "Call Me" (3) time wasted listening to "Call Me." Have enclosed CD for your consideration. Ironically there is another phone related song #6 "Hanging on the Telephone." I feel this should be worth extra points for Blondie song nomination. Also the song "Rapture" is very weird -- something about people eating cars -- more bonus points for Blondie. Perhaps you could have a theme song contest and play the winning song at the phone booth to officially open phone festivities. While playing song people could put their hand up to ear as if holding a phone while standing on one leg or something like that in reverence to booth. If I may also suggest a Patron Saint for the phone booth. 80s icon Boy George. The enclosed taped interview with Boy inspired my nomination. When I heard the song "Karma Chameleon" briefly in the show I thought this once a hit tune would be a good closing ceremony song. You could dance around phone booth before departing in your cars waving at a photo of Patron George while the ending of "Karma Chameleon" fades in the distance "you come and go, you come and go." Also note Boy's colorful desert chameleon like eye shadow (on show), his holding a statue and first word to song. (Bill Clinton reference -- strike against him -- but overall ... )
Consider -- Boy!
And like the Olympics and the Miss America pageant that have their "official sponsors" I would like to nominate the movie "Swamp Thing" as official movie of the phone booth. Why you ask. #1 Because it has nothing to do with the desert -- it's not called Swamp thing for nothing. #2 There is a profound lesson that life is a contrast -- dry sand / wet swamp and you don't know in which you will end up. #3 Along with this deep means nothing meaning is the fact that Adrienne Barbeau also is looking for a phone booth in this movie. She finds one but it doesn't work -- you must see this scene to compare booths. #4 My husband and I went on a quest much like you did to find the booth to find the swamp.
The scrapbook includes:
Photos of various Swamp Thing filming locations
Photos of various Twin Peaks (Snoqualmie, WA) photos
Many photocopied pages from a high school yearbook, all featuring Kyle McLachlan, which whom Jean went to high school. (From "Senior Wills": "I, Kyle McLachlan, will to my little brother Craigy, my can of anti-Stu spray and my personal feelings concerning the screwed-up priorities of this school (that is, sports are more important than Art, Music and Drama).")
A list of celebrities Jean has seen: Burt Reynolds, Elizabeth Taylor ("pre-Larry"), Debra Winger, Martha Stewart, Evil [sic] Kinevil [sic], Hume Cronyn ("profile and back of head sighting"), Ritchie Valens ("with girlfriend").
Lots of photos & memorabilia about celebrities
The Lupe Velez story, photocopied from Kenneth Anger's Hollywood Babylon
Lots of tourist snapshots
Articles & autograph from Lavay Smith
Photos of various statues
---
Item: Scrapbook II
---
(Cover has Brooke Shields, labeled "Book Two / Brooke Too")
Info about Bodie, CA
Info about Petaluma, California (including lots on their famous "Butter and Egg Days")
Route 66 stuff
Motel postcards:
"Along with my company start-up venture (product unknown as of this date) I am currently obtaining information for a great mission. I am collecting old postcards of hotels and restaurants and plan to travel to these sites to compare the postcard picture and information to how the establishment looks today. I feel this is a very important mission with great social implications in its final analysis. Currently funding is not available for this omnipotent project but Safeway has brownie mix 4 boxes for 5 dollars. I plan to purchase a number of boxes and bake the brownies as recommended by the manufacturer and sell them to passing motorists and unwary neighbors from my driveway. I anticipate receiving adequate funding quickly if brownie sales are significant. I plan to have my mission findings published in a oversized, costly coffee table book."
Photos of her statue, a Tiki named Hangover Jim.
Photos & effluvia from the "Fisherman's Festival" (including a photo of Hangover Jim in a cop car)
At the end:
"Jane, stop this crazy thing!" -- George Jetson
I must heed George's words. I can no longer work on this project as I must prepare for Butter and Egg Day celebration. I must check if my costume needs mending and plan celebration menus. As tradition dictates I will be making egg salad sandwiches to bring to parade but must plan lavish feast for dinner celebration. Come to our charming town and see the parade sometime! Bring your potential egg and dairy workers friends. You can stay at the Hotel Petaluma! It's such a lovely place, such a lovely face. Plenty of room at the Hotel Petaluma. Any time of year, you can find it here. Mirrors on the ceiling, pink champagne on ice. We are all just prisoners here, of our own device. Relax, said the night man. We are programmed to receive. You can check-out any time you like, but you can never leave. Again, must run! Need to clean egg and dairy flag to display Saturday. Thought provoking closing quotes follow sign off.
In Chickens We Trust.
Regards,
Jean H______
Proud Citizen of Petaluma, CA
His mood is heavily nostalgic these days. "I have a desperate desire for serene summer nights, merry-go-rounds, and nickel ice cream cones." ... From an interview with Rod Serling in TV Guide, June 3, 1972
Thank you Mrs. H_____. Have a good afternoon! ... Forced to be cheerful and say customer last name Safeway clerk
"On this planet, or wherever there is human life, perhaps out among the stars, beauty is in the eye of the beholder. Lesson to be learned ... in the Twilight Zone." ...From "The Eye of the Beholder," first aired November 11, 1960
Much beauty in the swamp if you only look. ...Swamp Thing
---
Item: Book
---
The New Roadside America
---
Item: CD
---
The Best of Blondie
---
Item: Videotape
---
Snippet of The Drew Carey Show that had Blondie's "Call Me" in the background.
Snippet of The Norm McDonald Show
Rosie O'Donnell [ugh!]
Oprah
News -- including a shooting report from Union City. (Not a Blondie ref, though; wrong Union City.)
MAD TV
---
Item: Videotape
---
Swamp Thing
---
Item: Videotape
---
Interview with Boy George
---
Item: Videotape
---
Television biography of Tex Ritter
Attached note:
I read in your website some of your family were in movie "Rainbow Over the Range" with Tex Ritter. Last night at 8:00 I was looking through TV guide and spotted Tex Ritter biography show. Put tape in right away and taped Tex show. Here it is if you want to watch it.
P.S. I'll make it eternal mission to be on lookout for "Rainbow Over the Range" things and will send to you if mission successful.
---
Item: LP
---
Round The Campfire: The Words To Your Favorite Western Songs
Attached note:
This was found in Mitch's (AKA Satan) album. Obviously the Prince of Darkness took this from some kindly American family so they could not sing wholesome western songs around Satan cohort -- fire.
---
Item: LP
---
How to communicate your ideas
Attached note:
Precursor to horrid corporate motivational seminars that workers are forced to attend.
---
Item: Shopping bag
---
Marked Caution: Satan Material: Cleanse Soul Before Opening
Attached note:
Read your adventure with 666 cough syrup. Thought you would be interested in this and other Satan related material!
---
Item: LP
---
Crazy Otto and his funny keyboard, Favourites
Attached note:
Satan!! Also known as Crazy Otto!
---
Item: LP
---
Mitch Miller, Sing Along with Mitch
Attached note:
Satan comes in many guises. Now he is pretending to be Mitch.
---
Item: Book
---
Boy George & Culture Club
Attached note:
Couldn't believe my eyes when I spotted this Boy Book at a antique shop (was actually junk store). Rang the bell on the desk and the lady came out from the back. It took three rings to get her out from the back where she was watching TV. But finally I was able to purchase Boy Book.
---
Item: LP
---
Jackie Gleason Presents: The Torch with the Blue Flame
Notations on album:
I'm so lonely
Lonely Record
After listening to it I can see why it is alone
---
Item: LP
---
Henry Mancini, Mr. Lucky
Notation on album:
Greta owned my book, Bill owned my record, now you own it. I guess your lucky, Mr. Lucky
---
Item: LP
---
Bert Kaempfert's Greatest Hits
Notation on album:
End of world song ("Danke Schoen")
---
Item: LP
---
Debbie Harry, KooKoo
Attached note:
Debbie Harry of Blondie "Call Me" fame. Would you please, please put this record out in the desert. I interpreted the bell ringing sound of the roving neighborhood ice cream truck and the musical notes said this record must go out in the desert. The bell also said the existence of the human race depends on this. If not put out in the desert great peril will come -- starting with power lawn tools not working and cumulating to people jumping off high objects like lemmings to the tune of Danke Schoen.
[In accordance with Jean's wishes, I will be burying this album at the Mojave Phone Booth on July 1st, 1999.]
---
Item: Article
---
"Truth or Consequences: Michael Moore's Crusade Against Modern Robber Barons Returns to TV in The Awful Truth," by Jeff Yorio (The Cable Guide, April 1999)
Notation on article:
Corporate Crimefighter!
Attachment: TV schedule, with The Awful Truth's timeslot circled
---
Item: Movie video catalog
---
Notation on page:
[Arrow pointing to Angels With Dirty Faces]
Attached note:
Movie made by the Devil
---
Item: Printout of the Force=Satan Homepage
---
http://www.geocities.com/Hollywood/Lot/9202/
---
Item: Printout of the Ambrose Bierce Portrait page
---
http://www.keele.ac.uk/depts/as/Portraits/bierce.html
---
Item: Printout of a Satan Trek page
---
http://members.tripod.com/~tzimisce69/satantrek3.html
---
Item: Article
---
"Raising the roof on house of horrors: The devil's in the details on the set of `The Haunting,'" by Claudia Puig (USA Today, April 20, 1999)
Notation on page:
[The word "devil's" is underlined]
---
Item: Front page of USA Today, April 20, 1999
---
Front page story: "New kids on the block: Younger bosses raising workplace issues"
Next to the photos is a sticker modified to look like a cartoon thought bubble, with the words, "I hate your @|*@X*& guts"
On the back, another sticker, with the words, "You call me Dude one more time my fist goes down your skinny little throat"
---
Item: Pages torn from Press-Democrat and The Cable Guide television listings
---
Attached note:
Once you look for Satan you find him everywhere. Even in your local television program guide!
Circled are the following movie listings:
Horatio Hornblower: The Duchess and the Devil
The Visitor: The Devil's Rainbow
Hell in the Pacific
Hell Town
Jacob's Ladder
Devil's Arithmetic
The Devil's Advocate [duplicate]
The Devil's Arithmetic
Dying to Live
Gang Related [circled and crossed out]
Ghosts, Italian Style [circled and crossed out]
Cabin in the Sky
A Day at the Races [circled and crossed out]
The Devil is a Sissy
Devil's Doorway
The Doughgirls
Abbot and Costello in Hollywood [circled and crossed out]
The Devil's Advocate [duplicate]
42nd Street
The Devil's Mask
The Devil's Brigade