Dood, I totally cut an album!!!
I call it: Reflections
Abstrak
After
Apocalyptica
Atkins / Watson
Baldassari / Carlini
Jiri Barta
Gordon Beck
Warren Bernhardt
Acker Bilk
Alfonzo Blackwell
Blessed by Love
Michael Bluestein
Clockwork
Dollar Brand
Dave Brubeck
Carpenters
CBS Records
Columbia Records
Dan Chadburn
Robert Tree Cody / Hovia Edwards
Matthew Culley
Laurie Dean
Domo
DoppelMoppel
O'landa Draper
Jerry Garcia
Mike Garson / Jim Walker
Stan Getz
Jeff Gibbs
Carl Grubbs
Hagood Hardy
Julius Hemphill
Lightnin' Hopkins
Luico Hopper
Jay-J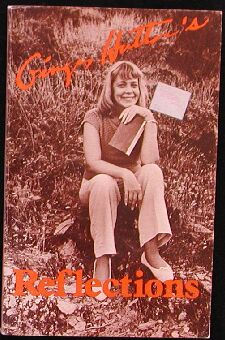 Ginger Hutton
The cover of Ginger Hutton's Reflections includes the following blurb:
William Alger wrote, "The wealth of a soul is measured by how much it can feel; its poverty by how little."
"Reflections" has its own soul. The column has an uncanny ability to communicate feelings as well as ideas to the reader.... I am ... sure you will come away from this experience with some "soul food."
This blurb was written by Darrow "Duke" Tully, who used to publish The Arizona Republic and help hacks like John McCain get elected, until it was revealed that he had fabricated a war hero's record (including the rank of full-bird colonel). He resigned and disappeared. I wonder whether Ginger ever reflected upon Darrow "Duke" Tully?
(See also Bob Morley)
Dood, I totally wrote a book!!!
I call it: Reflections
Steve Allen
Jo Bannister
Barbara Bush
Neil C. Cladingboel
Johnnie Ann Burgess Gaskill
V. L. Green
Glen Griffiths
Cathy Guisewite
Ginger Hutton
Ann Jonas
Ralph Kiesling
Harold E. Kohn
Nightengale
Bennie Patridge
Charles Rich
Idries Shah
John Woolslair Sheppard
Sandra J. Whatley