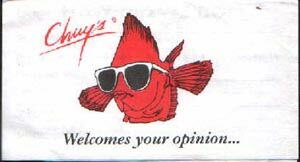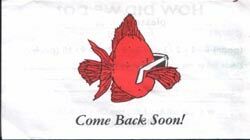 Vicki sent a large box full of stuff, including the items pictured at left, for which Vicki provides explanation:
Of course, there is a story to go with some of the items. The Sanitized for your Protection wrapper and the Chuy's comment card come from the original Chuy's restaurant located on Barton Springs here in Austin.... So what, you might ask. Well, their "recent" claim to fame is, this is the place where one Miss Jenna Bush got busted for trying to buy an alcoholic beverage using another's ID.
Isn't it odd how tolerant a "Zero Tolerance" policy can suddenly become when the head guy's darling daughters are involved?