(From the Valley of the Moon brochure:)

Valley of the Moon is a unique area built by George Phar Legler in the 1920s for the purpose of bringing mental and spiritual relaxation for visitors to the site. Mineralized rock cliffs, caves, pools, and garden miniatures have blended with tropic and desert flora to create what Mr. Legler called the "Fantasy Touch of Three" (Lewis Carroll, Edgar Allen Poe, and Robert Louis Stevenson).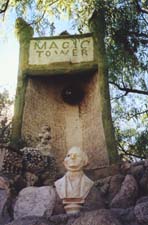 Although Mr. Legler has passed on, his works and philosophy are being carried on by an organization of the same name, The George Phar Legler Society. His philosophy throughout life was, "Happiness is Given, not Sold." In 1932 free Fantasy Fairy Tours were started. Later, the Bunnyland Theater (featuring trained rabbits) was added. The tours were led through the Valley by the myserious Mountain Gnome himself, Mr. Legler. His stories and magic displays captivated his audiences, which over the years amounted to thousands of Tucsonans.

In 1953, Life magazine presented a pictorial essay on the Valley of the Moon. This article and many others are on file at the Arizona Historical Society Library.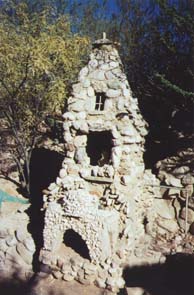 In 1971, a group of Catalina High School students rediscovered the Valley of the Moon. They found Mr. Legler living as a "troglodyte" in his "cave," as he had for the past twenty years. Legler was then 86 years old. Shortly after, in 1973, the predecessor of the current society was formed. It was called the Valley of the Moon was placed on the Arizona List of Historical Sites. Many of the original volunteers had been children who attended Mr. Legler's shows, as are many of our current members and volunteers.

A writer for Tucson Magazine in 1953 perhaps best describes the Valley of the Moon:
"Should Disneyland cover the entire state of California, not one corner would speak to childhood as does this imperfect, perfect little theatre."
On Mr. Legler's 97th birthday, then-Mayor Lew Murphy presented him with the Tucson Outstanding Citizen Award for the creation of the Valley of the Moon and his devotion to the free entertainment of Tucson's children.
Valley of the Moon is located at 2544 E. Allen Road, just north of Prince Road, between Tucson Blvd. and Country Club. Our telephone number is 323-1331.