Whip It!, Wagner & Other Delights
Reviewed August 9, 1999

ome might think it absurd to scour the country for copies of "Whipped Cream and Other Delights," Herb Alpert's 1965 jazz classic. But detailing your car with the collection? DoC, a computer programmer and art-car enthusiast from Tempe, Ariz., has done just that. DoC used his massive accumulation of "Whipped Cream" album covers to makeover a rat-infested, mechanically deteriorated 1962 Chevrolet Biscayne, and thus the art car known as Whip It! was born.
DoC devotes a portion of his Web site to Whip It!'s greatest hits, such as the vehicle's conception and construction, its flashy premiere at the Houston Art Car Weekend in 1997 and various art-car caravans and road trips that it attempted to endure. It also chronicles the vehicle's numerous breakdowns, which have left it all dressed up with nowhere to drive, and opens a window into the obscure world of art cars. The user is guided by a bust of Wagner that somehow makes it into most of the site's images. Sound strange? That's the point.
A Taste of Honey
"Today after lunch, a friend and I were driving in Phoenix and someone drove by in the same type of car as hers, and pointed to us. 'That never happens when I drive Whip It!' I said," DoC boasts. He enjoys showing people something they've never seen before. "Especially if they're not somewhere they'd expect to see something different," he adds. If you can get the "something different" to run, that is.
Getting Whip It! on the road again after a series of breakdowns, which has the car now stalled in San Jose, Calif., has been DoC's biggest problem as of late. "There is a pin that goes through the distributor shaft, something causes that pin to shear off … mechanics across the country are baffled," he says. "If Whip It! cannot be repaired, I will probably drop a new engine into her, but I don't want to — that engine is strong … when it works." While inconvenient, it does, however, give DoC his next Whip It! story to tell: The Rescue of Whip It! His fans can't wait.
Bittersweet Samba
Although Whip It!, the car, is stalled, the Web site of the same name generates an enormous amount of daily traffic, receiving thousands of hits per day. Deuce of Clubs's expanding guestbook encourages the site owner, his sidekick (the Wagner bust) and their quirky ride to "keep up the monologue," as one entry reads. But his art car isn't the only project that DoC is keeping up in real life and in cyberspace. In addition, he keeps tabs on a Mojave Desert public telephone — an old-fashioned booth 15 miles off the main interstate — making trips out there and fielding telephone calls with the help of friends that answer the phone "Deuce of Clubs" and make Deuce of Clubs-esque small talk with people from all over the world. "The absurd is the only interesting thing that we do on a day-to-day basis, as far as I'm concerned," one "DoC" said from the booth.
Along with the story of Whip It!, Deuce of Clubs features images of other art cars met along the way, including Harrod Blank's famous VW Beetle O My Gawd and the Cork Truck, a pick-up truck festooned with corks. "Keep the eyes on the end result and don't listen to people who tell you that you're crazy or it's a waste of prime TV-watching time," DoC advises the aspiring car artist. "At the end of the night, at least you'll have something to show for it."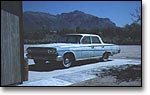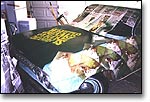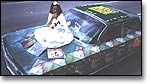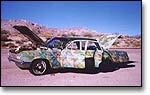 THE BEFORE FILE
Follow the glorious transformation of a rat-infested 1962 Chevy Biscayne into the art car now known as Whip It!

SOCAL CIRCLE TRIP
Follow Whip It! on a road trip through Southern California, the scene of Whip It!'s first breakdown.

REUNION
Join Whip It!'s reunion with its original "hood ornament."

WHAT IS WHIP IT!'S PROBLEM?
Hazard a guess at how to fix Whip It!, in the name of special prizes.