Ukulele mail
(There is no subtitle. Please pull forward.)
---
From: Tim J.
Subject: Sancho Panza ukulele
Date: Fri, 5 Dec 2008
Hello Doc,
I am looking to buy my 1st ukulele, and have no idea how current the note is that the Sancho Panza ukulele is for sale.
I just finished reading Don Quixote, and the Sancho Panza caught my imagination for several reasons.
So is it for sale, and do you think it would make a good player instrument for a beginner.
frankly, no--i don't think sancho would be good for a beginner. not that i don't consider myself still a beginner, but it might be a little squirrelly when you're trying to learn your first chords and get used to them. it is a concert-size ukulele, though, which i like because i have large hands. i recommend you visit a store that sells ukuleles and try out both soprano and concert ukuleles to see which fits your hand better (they are tuned the same).
---
From: Ian C.
Subject: Your resonator ukulele
Date: Fri, 11 Jul 2008
I was reading your page on the Johnson resonator ukulele. Very nice uke. I was looking at a similar model - same uke, different name - also from China. I was wondering if you had any comments on the action or the intonation? My experience with Chinese-made instruments has been somewhat iffy, although not always bad, so I'd like to get some comments before I commit to buying anything.
Anything you could add would be appreciated. I have several ukes already, but really want a resonator model for that bluesy sound.
i like the one i have a lot, but i paid extra to the guy i bought it from, because he was a luthier who did a bunch of custom work on it. for example, i guess the stock johnsons generally have pretty sharp fret ends (i have a real old banjo uke that's like that—tears up my fingers every time, though i guess i consider it worth the pain, or i wouldn't play it). i believe the nut is custom, too--i'd have to take a look at it, but i don't have it nearby.
so . . . never having played a stock johnson reso, i don't know how they are. i just lucked into this one (though i don't play it much any more, because i've moved almost completely from soprano to concert ukes, because they accommodate my fingers much better).
---
Date: Wed, 12 Sep 2007
From: Sam G.
Subject: jetel
Hi Doc - found you while searching for any stuff on Jetel (builder of instruments). I've just taken delivery of an old soprano uke by Jetel which has the number 37 written in pencil on the neck block. I know you mention about the banjolele by Jetel that you didn't know what the "8" might refer to. Maybe Jetel numbers are model numbers.
i don't know. maybe by now someone has a website devoted exclusively to jetels. i'll have to check that.
Pretty boring email eh? Please excuse that.
Otherwise, loving wandering through your ramblings from time to time - regards from the Highland of Scotland.
thanks sam. i have some ancestors from scotland. i'd like to visit one day & look for info. if you see some guy wandering around a graveyard with a jetel, yell at me & i'll buy you a pint.
---
From: Sal
Date: Mon, 12 Mar 2007
Subject: Thibouville-lamy banjolele
I enjoyed the photos of your Jetel banjolele. I recently found one similar except the head stock is stamped Thibouville-lamy London and it has a resonator body. Do you have any Idea what year this was made or possible value?
i'm afraid i'm not an expert on ukuleles of any kind, but you might try asking on usenet.
---
Date: Fri, 15 Dec 2006
From: poetdog
Subject: professional banjook photography
hey! those final two photos of yer new banjook are fine on the dom, yo.
why, danke. i don't know why those came out so sexy. don't know what i was thinking of that day.
perhaps you were lying on the floor that day.
that doesn't narrow it down.
have you ever considered professional banjo photography? i only ever mention this, because if i only ever had a banjo, and needed a photo taken of aforementioned banjo, i would hire you, most heartbeatingly.
you know, i wrote essentially the same thing about girl trouble. (the band, not the type of trouble.) except i used the abbreviation c.v., which, you know, totally sends it into another dimension of professional vernacular.
i would NEVER use the abbreviation c.v.!
...
what's c.v. mean?
curriculum vitae. or one hundred & five. those romans loved their puns.
---
Date: Fri, 28 Jul 2006
From: Agent Hesby
Doc,
I wholeheartedly support your ukulele-collecting endeavor and hope it brings you some peace.
it brings great peace to raise a great racket.
It is particularly heartening when anyone engages in pursuits that can be shared in polite company.
i'll let you know if i ever run into any.
---
Date: Tue, 25 Jul 2006
From: new andria mexico
Subject: Allan WoodY
Allan Woody was AMAZING. Yeah, he played with the ABB, but he -really- shone with Warren Haynes (guitar) and Matt Abts (drums) as Gov't Mule.
Allan Woody died in New York in the year or so before I left. GM did a cool thing as their next step... acknowledging that Allen was irreplaceable, they recorded a disc called The Deep End, each track using a different bassist -- Les Claypool, Phil Lesh, M'Shell Ndegocello, Rocco Prestia, etc. And Mike Gordon, Phish's bassist, made a pretty cool little documentary about the project, too.
Did Allen Woody really sign that uke? His fans are rabid; your signed ukelele is probably worth a lot more than you know, if the right Mule fan was interested.
until you asked, i'd assumed it was a machine-applied signature, like les paul's. but now that i look at the new ones, i see that this is not so.
and elderly is selling one they explicitly call "signed." now that i examine it closely, the signature looks sharpie-ish.
but compare the signature on mine and the signature on the one elderly is selling on consignment: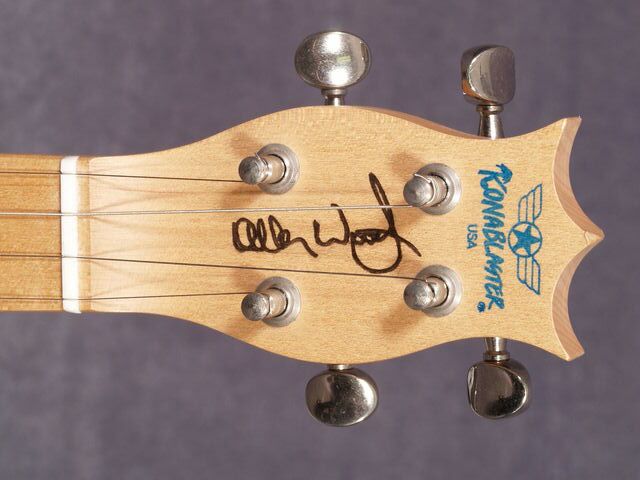 Elderly's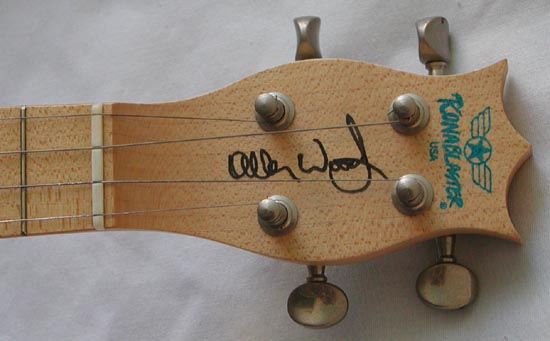 Mine
they look identical to me, so i'd say it's likely a machine-applied signature.
---
From: Robb
Subject: Gateway drug
Date: Mon, 24 Jul 2006
What do you think about trading one of your ukeleles for one of my mandolins?
un problemo: me no play the mandolin
I'm not sure, but I kind of assumed they used the same tuning, and as a result playing a mandolin would be, for a ukelele player, very similar to a guitar player playing a 12-string.
if only.
Maybe I'm wrong about that. What tuning pattern do you use for your uke?
sopranos, concerts, and tenors typically are GCEA (except detuned sopranos, which are ADF#B); baritones are DGBE
Huh. Well, I suppose that makes the skills less portable.
certainly makes the chords less portable.
I've been using the typical "GDAE" on my mandolins, which is basically like playing a guitar upside-down.
playing the mandolin is like being jimi hendrix
More like Dick Dale. Jimi re-strung the guitar so that he wasn't really playing "upside-down" - he was just a mirror-image of a right- handed guitar.
(was leetul yoke, moose ent skvuirrel)
Dick Dale literally plays upside-down. I've noticed that the guitarist for local band Flathead does the same thing.
oh, believe me, dick dale went into this in some detail. i only had space for the lion story
Showing that I have the uncanny ability to annoyingly dissect even the most tongue-in-cheek throwaway comment.
an eminently marketable skill, should you ever go into talk radio
I love that you named your banjolele "Lonny" - I need clever names for my instruments.
what not to do: consult the nearest baby names book
---
From: Heather M.
Date: Sat, 22 Jul 2006
I didn't know about this ukulele thing. In DoC terms, I find it amusive!
---
From: Amy N.
Date: Fri, 21 Jul 2006
wow! that's quite a collection! i like the sancho panzer the best. :-)
---
Date: Fri, 21 Jul 2006
From: babsy
DEEEEEEE licious!
---