Huh?
A Phone Interview with Mojave Desert Expert
Dennis Casebier
by
---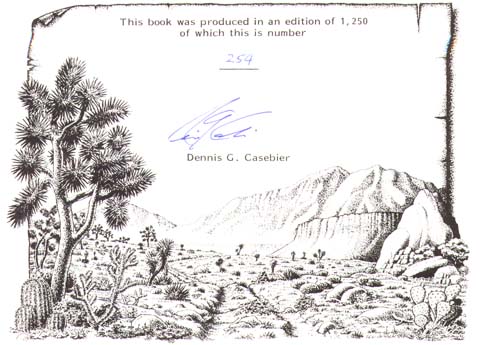 The day after I loaded my Mojave Phone Booth story on the web, I went looking for a book in my library & my eye landed instead on a book with the word Mojave in the title, a book I'd forgotten I had. It's a privately-printed job (only 1,250 copies were printed) that I picked up in a thrift store somewhere for $1.99, all about the Mojave Road & environs, written by a fellow named Dennis Casebier.

I decided I should contact this guy for reasons other than his name's Apocalypse Now echoes ("Getcha case o' beer fer that one!" -- Colonel Kilgore). If anyone would know more about the Phone Booth and its origins & meaning, it would have to be a guy who writes books about the Mojave Desert. I found his phone number on the net & dialled up. He turned out to be a taciturn outdoorsy type who patiently listened to my story and then repeated a phrase I hate more than almost any other. (You'll know which one I mean when you read it below.) But he also turned out to be eminently helpful.
---
Dennis Casebier: Hello?
Deuce: Hello, is this Dennis?
Yes.
Are you the author of the Mojave books?
Yes, I've done some books on the Mojave, yeah.
Well, I have a question for you. I'm looking for a phone booth.
A phone booth . . .
There is a phone booth in the Mojave Desert, and it's like fifteen miles off of I-15. Does that ring a bell at all?
Uhhh . . . [Starts laughing]
Probably the strangest question you've had all day.
Tell me more about it.
Okay, here's the thing. . . . I was calling this phone booth. I just figured, just for the hell of it, I would call this phone booth every day. Just to see if anybody would ever answer, 'cos I thought it was weird: why would there be a phone booth in the middle of nowhere? So one day, less than a month after I started doing this, I got a busy signal. So I just kept calling back till it rang again and this lady picked up. . . .
[Laughs]
. . . named, I think it was Lorene--does that ring a bell?
Uh . . . Lorene Crawford?
She said her family's had the cinder mine out there for years.
Oh, I know who--I know where you're at.
She said she comes in to use the phone every now and again. And so I'm going to go up to this festival called Burning Man, which is up in northern Nevada, over Labor Day. But on the way there, I want to go visit this phone booth. But, dumb me, I didn't get an exact fix on where this phone booth is.
Huh. Where do you live?
Arizona.
Uhh. . .how'd you get the number?
Well . . . I have these friends who put out a magazine.
Yeah. . . ?
And they also have a band, and they came through town and played right near my house, so they gave me the latest copy of their magazine, and there was this letter to the editor, this guy had written in, apropos of I don't know what, but he said that he had seen it on a map, that it said "TELEPHONE," and he thought that was weird, so he drove out there from L.A. in his Jeep and found the thing. He was amazed it was working and couldn't figure out why it would be there. And the phone number was in there, and I just figured, I'll just call it. . . .
Call the phone number!
Just to see, you know--
Well, first off, my reaction would be you've got too much time on your hands.
Oh, you have no idea. . . .
Fifteen miles, let's see. . . . All right, now, what do you want to know?
I want to know what would be the best way I would get to it.
Get off on the Cima exit. Do you have a map that shows it?
Well, I've got a Rand McNally map, so it's not real detailed, and then I've got the one that's in your book.
Which book?
It's odd, I just happened to pick that up.
Which book do you have?
Reopening the Mojave Road
Oh, I see. Now, that's a different one. That's a different phone booth.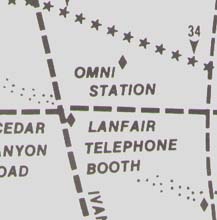 Location of the Rival Phone Booth (aka The Anti-PhoneBooth)

What, did you mention a phone booth in here?!?

Yeah.

Oh, really? I was looking in here to see if there was any mention! Because I just stumbled across this, I forgot I had it. I've got thousands of books, and I was looking for another book today and I saw "Mojave." So I've been looking through it.

Now, what you really need is. . . fifteen miles. . .I'm going to add up these mileages, here, let's see. . .it comes out to be about twelve miles from I-15. Now when are you going to do this?

This is going to be around Labor Day.

Here's what we'll do. I'm sittin' here holding the Auto Club San Bernardino County map. It shows it on there. "TELEPHONE." I'll send you a xerox.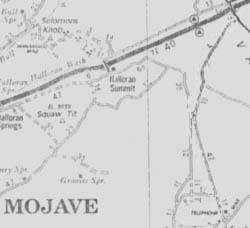 Oh yeah? That'd be cool!
And it shows "TELEPHONE." I know that's the one you're talking about.
She said it's all shot up.
Yup. All right, give me your name and address. I'll do it right now & stick it in the mail tomorrow morning.
[Address junk]
I love this book, by the way. I've always had a fascination--well, I kind of grew up in a place called Coolidge, which is in the middle of nowhere here in Arizona--so I have this fascination with the desert.
You study history, do ya?
The Real Deal

Uhh. . .well, I just find the whole thing interesting. See, I always think that if I were a pioneer and I was going West, I would have heard that if I went far enough, I could be by an ocean. So why would I stop in the middle of the desert? That's what I find puzzling.
Yeah.
I mean, it must have been terrible to live in Arizona. I can't imagine living here before there was air conditioning.
It's pretty tough.
It's unforgiving territory. I just find it fascinating, though. I'm kind of a hermit in some ways, and I think it'd be fun--at least for a while--to live where there isn't anybody.
Yeah.
You're in Essex? Where is that?
Actually, I live in Goffs.
I couldn't even find Essex on the map here.
I live in Goffs. You won't find it, either. It's smaller than Essex.
How far are you from Baker?
Long ways. It's a hundred miles from here to Baker. I'm down here closer to Needles. But there are two kinda famous telephone booths out here.
You're kidding.
The other one is not too far from me here. It's about fifteen miles up the road. It got shot up a lot, too, so it got moved, around the corner and down the road, where the average tourist doesn't see it, and only the people that live out here know where it is, and so it's still usable and doesn't get damaged. But that one you're talking about's kinda off the main backroad there.
So, are there a lot of people who live in that area?
No, hardly any.
I mean, if you're not connected with the mine, there's probably not much reason to be there, is there?
There's ranchers. Recreation. Hunters--in season. Environmentalists ganging up on the rest of us.
How do you pronounce your last name?
CASE-beer.
French?
German.
I really appreciate your help.
Okay. We do a little newsletter, just for the hell of it, I'll send you one.
That would be great.
Might enrich your visit to this region.
Thanks!
I might use a hi-liter on the. . .do you have 4-wheel drive?
I'm going to be renting something. Am I going to need a 4-wheel drive?
Oh, not especially, as long as you just stay on the direct route. And carry a lot of water with you. 'Cos you're gonna be twelve miles from. . .anything.
I appreciate your help.
You're welcome.
I'll talk to you later, then.
Bye.
---
Bet he didn't think he really would talk to me again.
---
(If you're interested in Dennis's newsletter, Mojave Road Report ($15 for 12 issues), write to:

Friends of the Mojave Road
Goffs Schoolhouse
37198 Lanfair Road
P.O. Box 7
Essex, CA 92332-0007

---