Visit 4: Apr99
(Booth Blizzard!)
---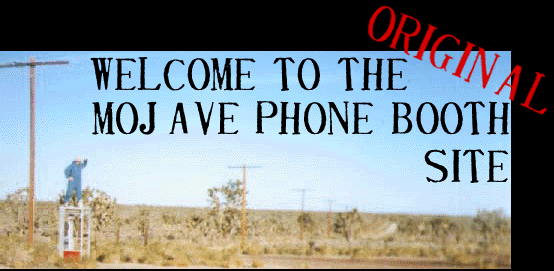 ---
---
---
Date: Thu, 18 Sep 2014
From: Preston B.
Subject: mojave phone booth <3

Hello Doc,

I heard the tale of the mojave phone booth when it aired on NPR a month or two back, and to say the very least, it resonated with me in a massive way. Love your mind, your sense of intricacy, and worth. Pretty much the best story I've ever heard!

I did a CG piece inspired by the Booth, hope I did it some justice! Feel free to use this wherever you can for the benefit of the story of the Mojave Phone Booth.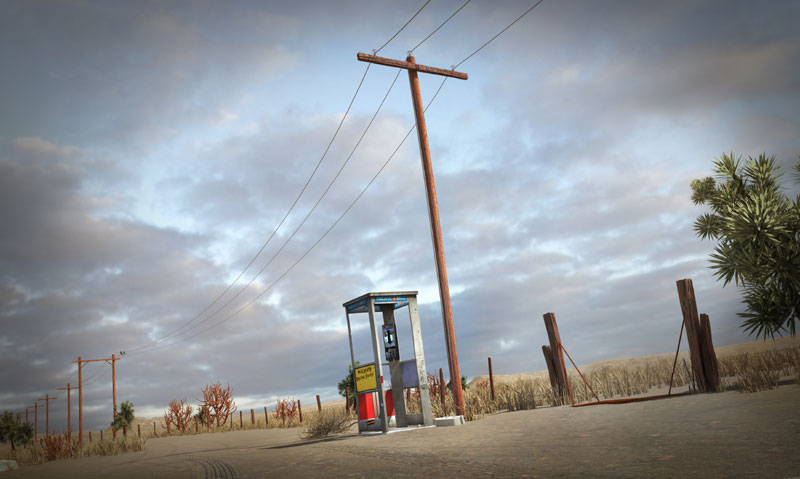 (Click for full size)
---
---
After ten years of work, my book Adventures with the Mojave Phone Booth now has a Kickstarter campaign (with 14 levels of rewards) to get it published and into your hands and eyeballs and minds:

http://kickstarter.com/projects/mojavephoneboothbook/adventures-with-the-mojave-phone-booth

(If you were to help me spread the word by using the image at right as your avatar or profile photo or what have you, why, I'd think that was pretty cool of you, I really would.)
---
26aug2014: The Kickstarter to get Adventures with the Mojave Phone Booth published runs from 21august2014 to 20september2014. We're a third of the way there—many thanks, everyone!
---
22aug2014: I almost hesitate to update this website, because it sort of feels like (and definitely looks like) a primitive artifact, but: you can now listen to Snap Judgment's "End of the Line" episode, featuring yours truly, at NPR.
---
21aug2014: Aaaaaaaaaaand we are now LIVE with the Kickstarter to publish my book, Adventures with the Mojave Phone Booth!
---
16aug2014: Next weekend (23-24aug2014), NPR's program Snap Judgment will air a story about my involvement with the Mojave Phone Booth. It will also be available on Friday, 22aug2014 via their website.
---
15aug2014: The forthcoming book Adventures with the Mojave Phone Booth now has a website that is currently taking its baby steps.
I'm also inaugurating a Kickstarter to publish the book. I'll post the url as soon as I have it.
---
09aug2013: 760 733 9969 is once again OPERATIONAL
---
13apr2012: Mojave Phone Booth Tattoo Skin Illustration
This spectacular Tattoo Skin Illustration-in-progress was sprung on me in Tucson by the astonishing Emma Darwin: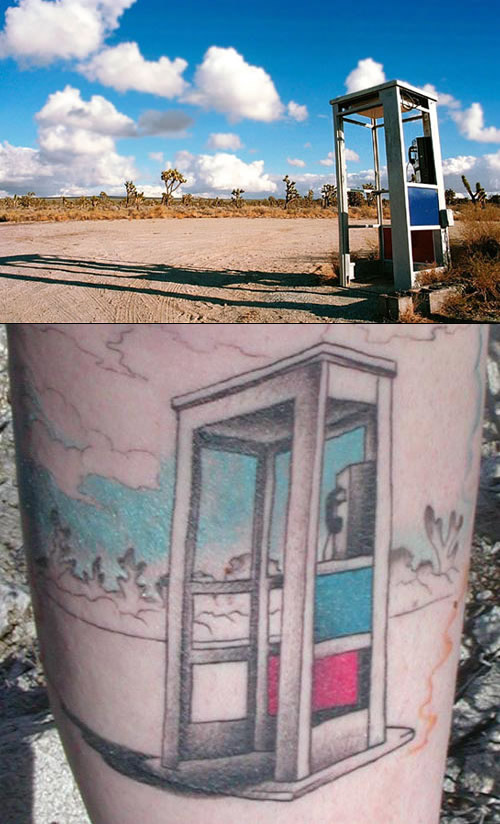 Surprised? Ummm...YEAH!
(Based on a Booth photo by Lara Hartley)
---
18dec2009: Cat and Girl visit a desert phone booth
---
03dec2009: If you're here as a result of Skype's "The Phonebox Experiment," please let me know.
---
15nov2008: Now available on DVD: The Mojave Phone Booth
Lots to see also at: The Mojave Phone Booth film website.
---
20jun2007: Ten years ago, Lorene answered a ringing telephone in a phone booth in the middle of the Mojave Desert.
---
26may2007: — Ten years ago this evening, I first learned of the existence of what would come to be known as The Mojave Phone Booth. Thanks again to Nick (R.I.P.), Girl Trouble, and everyone else who played along.
---
(Also, progress on the book proceeds apace. Keep your eyes on the skies, or a book may fall on your head.)
Yes, the Mojave Phone Booth site is in need of updating. But would you rather I spend time on that, or instead finish the upcoming Mojave Phone Booth book?
That was the conclusion I reached, too. Stay tuned.
In the meantime, however, you can read what's here on the Mojave Phone Booth site. You can also read an interview with John Putch, who directed a film inspired by the Mojave Phone Booth. Mojave Phone Booth is what it's called. Imagine dat.
Also: The PhoneSwarm website is now available from Cardhouse.com. (Disregard the November 27th 2006 announcement on the PhoneSwarm site.) Who wants to keep it going? (Actually, the Cardhouse Robot says: "They don't have to pick up the phoneswarm torch but they also can't be webspammers or whatever the proper terminology is.")
---
J. G. Ballard: I don't have a PC actually, but my girlfriend is a keen PC user, a great surfer of the Internet. . . . And some of these sites she's dug up contain accidental poetry that is quite moving. I remember when she first got a PC about six or seven years ago, there were these "telephone booths in the Mojave desert" sites. I can't remember the theory of it, but there was some strangely poetic business about this telephone booth which was still functioning. I can't remember what the exact point of it was, but it became a kind of talismanic object.
— J. G. Ballard: Conversations (RE/Search Publications), p. 41
---
14dec2006: Genevieve in Paris writes:
Hello there,
I'm writing because I thought you might be interested to know that French conceptual artist Sophie Calle inaugurated an art phone booth in Paris today inspired by the desert phone booth. I'm sure you can read about it in the paper tomorrow. The sculpture around the phone booth was designed by Frank Gehry.
---
12oct2004: Final word on what became of the Mojave Phone Booth
---
A tombstone for the Booth
---
The Booth on The X-Files?
---
September, 2000: They have left no trace.
---
A tiger's whisker for a piece of Mojave Phone Booth glass? Strange, but true.
Sad Announcement:
The Mojave Phone Booth Has Been Removed

New stuff below, including the anonymous warning letter we received in April. Also, Mary Martin responds to complaints about the Booth removal.

Thanks to NBC for a great report on the end of the Booth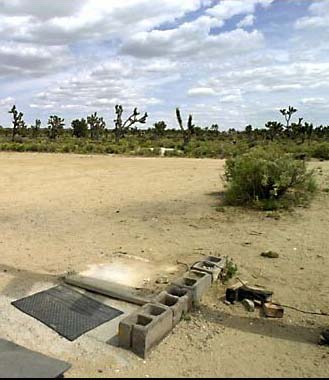 Photo by Lara Hartley, Desert Dispatch
---
It was probably inevitable, given (1) the hyper-attention the Booth attracted (2) Federal involvement.
But it still stinks.
Pac-Bell claims to have no knowledge of the Booth's disappearance now admits (in a press release) that it removed the Booth, as a result of "a joint decision" of Pacific Bell and the National Parks Service.
For a while, Pac-Bell didn't put a "This number has been disconnected or is no longer in service" message on the booth number, so that the number still had a phantom ring. They obviously wanted callers worldwide to believe that the phone booth was still connected and thereby keep their actions secret.

Contrary to this graphic from the NPS home page, the NPS does not want you to visit National Parks. (Actually, the Mojave National Preserve is not a National Park.)
They don't want you calling any National Parks, either. So there's no more calling the phone. So why not phone a National Park office, instead. You can call Mary Martin (760.255.8803) to let her know what you think of the Booth removal.
Updates will appear here, as they come in. If you have more information about the Booth's disappearance, please share it with the rest of the class.
(Then call Mary Martin (760.255.8803). Share it with her. Sharing is good.)
Here's the anonymous warning we received back in April. Someone knew whereof he/she spoke: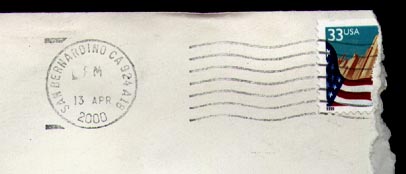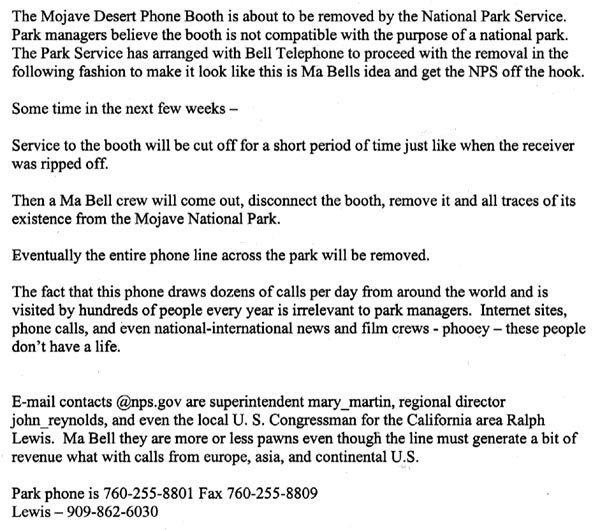 The fulfillment of the prediction was not long in coming. A month later, the Booth was stolen away secretly by Pac-Bell:
The Loneliest Phone Booth Makes its Final Disconnection

By Lara Hartley, Desert Dispatch (Barstow, CA)
Reprinted by permission

CIMA DOME - E.T. can't phone home from the middle of the Mojave National Preserve and neither can anyone else who wants to use the loneliest phone booth in the world.

The famous telephone booth in the center of the Mojave National Preserve was unceremoniously hauled away Wednesday morning.

Mary Martin, superintendent of the preserve, declined comment on the phone's disappearance and referred inquiries to Pacific Bell.

Pacific Bell spokesman Steve Getzug said the phone was removed "as a result of a mutual agreement with the National Park Service," but would not say who started the talks to remove the telephone which had been maintained by the company for years.

In 1998 Pacific Bell spokesman Steve Allen said, "Though the initial installation date is not known, the Pacific Bell pay phone on Aiken Mine Road has been there for several decades. It was put there originally as a policy station, a California program that mandates phone installation for the safety, health and welfare of residents in remote locations."

But Friday, a joint press release from the National Park Service and Pacific Bell stated, "After weighing the environmental concerns and public need, Pacific Bell and the National Park Service agreed to remove a pay phone located in a remote pocket of the Mojave National Preserve. While the phone and its location proved to be a novelty for some in recent months, the increased public traffic had a negative impact on the desert environment in the nation's newest national park."

The owners of the nearby Cima Cinder Mine, Lorene Caffee and her husband Terry, were outspoken about the removal.

"It stinks. There is absolutely no reason for it. Isn't that what a park is for - for people to visit?" Lorene Caffee said.

"They don't want people out here unless they can control them," Terry Caffee said.

Lorene said, "The park service should not be allowed to do this - it's not right."

Preserve visitors Gerald Zettel and James Wielenga were disappointed when they arrived Friday afternoon and found nothing but a cement pad.

"They've already shut down half the desert out here and now they are taking down the landmarks," Zettel said.

In recent months, the booth attained cult status through Internet sites and media attention, including a television piece by Tom Brokaw.

Phone calls to the booth Friday night went unanswered.

Phone Booth

By Merrill McCarty, Desert Dispatch (Barstow, CA)
Reprinted by permission

The removal of the famed isolated phone booth in the East Mojave Desert last week makes the point clear National parks are not about people and shouldn't be forced into an area where people live and work.

Officially, of course, the 1.5-million-acre Mojave National Preserve is not a park. It's a compromise that was created in 1994 after years of lobbying by environmental groups. The area, roughly between Interstates 15 and 40 east of Baker, includes precious natural features, wildlife, and prehistoric and historic sites. Mines, cattle ranches, homes and other private property are scattered all through it. The difficulty of making that enormous, varied region into a national park is obvious, so the preserve was created — administered by the National Park Service but with some pre-existing uses allowed to continue.

The compromise hasn't really made anyone happy. Environmental groups won't be content until the whole region is a true park, with the residents gone, commercial uses extinguished and access restricted. The people who live and work there are feeling more and more restricted, under pressure to sell out and leave.

The telephone booth was a remnant of the past. It was installed at the junction of two desert dirt roads southeast of Baker "decades ago," as closely as anyone can figure, as part of a program to provide telephone service to sparsely populated rural areas. As late as 1998 a Pacific Bell spokesman spoke of the need for the phone and the company's commitment to maintaining it there.

However, while the phone booth has long been a topic of conversation, it has recently gained more notoriety and was receiving more visitors. It was one of those little oddities that fascinate people, standing alone in the desert miles from the nearest habitation. The increased traffic apparently irked the Park Service and last week Pacific Bell removed the booth. Neither the NPS nor the telephone company will offer much explanation except to say visitors were causing environmental damage.

That was an important consideration for decades, but not now. Yet this phone was sitting at a traveled crossroads where people have been stopping for decades. It's hard to imagine how a few more visitors would make much difference and many observers say there were no problems. The fact the phone really was useful to some people who live in the area doesn't matter anymore.

It's ironic that the Mojave National Preserve was touted as a great tourist attraction back when it was established, but something that attracted tourists was deemed offensive and unceremoniously removed. It seems it was the wrong kind of tourist attraction — manmade rather than natural — and parks aren't really about visitors anyway. They're about preservation, and a push is on to restrict park visitation in many places. The quaint little lonely telephone booth, amusing and harmless yet useful, was a casualty of the war being fought over access to public lands.
---
Now, continue on to find out ...

But first, call Mary Martin (760.255.8803). Do it. Do it. Do it till you're satisfied.
---
Other parties who would love to hear your thoughts about the Booth's removal:
Congressman Jerry Lewis
2112 Rayburn House Office Building
Washington, D.C. 20515
909-862-6030
202.225.5861
Senator Dianne Feinstein
United States Senate
331 Hart Senate Office Building
Washington, D.C. 20510
202-224-3841
Mary Martin, Superintendent
Mojave National Preserve
222 E. Main Street, Suite 202
Barstow, CA 92311
760-255-8803
Robert Stanton
Director
National Park Service
1849 C Street NW
Washington, DC 20240
Phone (202) 208-6843
John Reynolds
Regional Director
National Park Service
600 Harrison St. Suite 600
San Francisco, CA 94107
(415) 427-1300
George Turnbull, Superintendent
National Park Service
Pacific Great Basin Support Office
600 Harrison Street, Suite 600
San Francisco, CA 94107-1372
415-427-1300
Fax415-744-4043