31jul2004 to This Very Daggone Minute
Junk you may have missed and yet managed to live happily without:
---
25dec2004 --
The Xmess Truce ("Here we were laughing and chatting to men whom only a few hours before we were trying to kill!" That last sentence alone shows the utter folly of war. It also shows that left to themselves, men would not naturally engage in such a senseless war like World War I. It takes the state to get men to hate and kill other men that have never aggressed against them and that they don't even know.)
Scrooge Defended (It's Christmas again, time to celebrate the transformation of Ebenezer Scrooge. You know the ritual: boo the curmudgeon initially encountered in Charles Dickens's A Christmas Carol, then cheer the sweetie pie he becomes in the end. It's too bad no one notices that the curmudgeon had a point—quite a few points, in fact.)
---
25dec2004 -- Given a reasonable choice nearly everyone would opt out of Social Security. Just try making it voluntary and see what happens.
Given a reasonable choice nearly everyone would opt out of all taxes, thus opting out of government completely.
The only reasonable choices are free choices, which means that the reasonable alternatives to the state are always to be found in private enterprise, never in collective politics. (No Treason)
---
24dec2004 --
Recently, Webb was interviewed for a book profiling 18 journalists who found themselves discredited or censored. Let his own words be a more fitting epitaph than the hack-job L.A. Times obituary:
"If we had met five years ago, you wouldn't have found a more staunch defender of the newspaper industry than me . . . I was winning awards, getting raises, lecturing college classes, appearing on TV shows, and judging journalism contests . . .
And then I wrote some stories that made me realize how sadly misplaced my bliss had been. The reason I'd enjoyed such smooth sailing for so long hadn't been, as I'd assumed, because I was careful and diligent and good at my job . . . The truth was that, in all those years, I hadn't written anything important enough to suppress."
Gary Webb, R.I.P. (L.A. Weekly)
---
21dec2004 -- So far, I have managed to think of only one legitimate, non-egregious, non-horrifying use of the wah-wah pedal: "Tennesee Bird Walk."
---
18dec2004 --
"You can get out now. You've been awfully quiet back there," said the older transportation officer in a deep voice.
"I'm a quiet person."
"Where's that accent from?"
"England."
"I spent ten years travellin' the world with the military. I really liked England. What the hell are you doin' out here anyway?"
"It's a long story," I sighed.
"Well, you know what they say about Arizona, don't you?"
"No."
"People come on vacation and leave on probation," he chuckled.
I smiled back.
"Well, good luck to you," he said, as I was unhandcuffed.
-- 16dec entry from the highly, highly recommended Jon's Jail Journal, chronicling a convicted Englishman's misadventures under the twiddling thumbs of the Arizona Department of Corrections, at least one of whom likes quoting inmate-manufactured bumper stickers
---
16dec2004 --
55 Years for a Few Bags of Pot
Weldon Angelos, founder of the rap music label Extravagant Records, was sentenced yesterday to 55 years in federal prison for selling a few bags of marijuana. U.S. District Judge Paul G. Cassell, who imposed the sentence, called it "unjust, cruel, and even irrational" but said his hands were tied by mandatory minimums for people who engage in drug trafficking while possessing a gun: five years for the first offense and 25 years for each subsequent offense. Angelos was convicted of three counts for carrying a pistol in an ankle holster twice and in a briefcase once while selling marijuana on three occasions. He never took the gun out, let alone used it.
He would have been better off if he had. If Angelos had merely murdered his customers instead of selling them pot, his sentence probably would have been lighter. Cassell noted that the same day he sentenced Angelos, he gave 22 years to a man convicted of beating an old woman to death with a log. (via Reason)
---
15dec2004 --
Sunshine was creeping across my rug. It was almost seven-thirty. I sat on the edge of my bed, puffed an old cigar butt, and thought about what Bob Boone had said to Tug McGraw.
***
It was the World Series. Philadelphia versus Kansas City. Tug McGraw of the Phillies was pitching. It was the fifth game of the series, the bottom of the ninth, with the Kansas City Royals behind four to three. The Royals had the bases loaded with two out. Kansas City had just won two straight games to tie the series, and now they had a chance to win a third and go ahead of Philadelphia three games to two. The game was being played in Kansas City. The ball park was packed. The crowd of over fifty thousand frantic Kansas City fans were on their feet, yelling their heads off. It was bedlam. In the middle of all that commotion, Bob Boone, the Phillies' catcher, asked the umpire for a time out and walked to the pitcher's mound. He said something to McGraw, turned, and walked back to home plate. You know what he said? He said, "Isn't this exciting?"
What a wonderful thing to be able to say. -- Chuck Barris, Confessions Of A Dangerous Mind, p. 8
Of course, given the source, the story could be complete horseshit, though one can't prove universal negatives (such as "There never was a Salvador Panagra Renda or a Rollie Ripple" -- or even, "There never was a Kolob.") Still, unlike most of Barris's tales, this one rings true.)
15dec2004 -- Also, it is Bill of Rights Day. These days, I'd almost be willing to settle for getting back just the ninth and tenth amendments.
---
14dec2004 -- The Jews In The Attic Test
---
13dec2004 -- From LewRockwell.com:
Write George W. Bush's biography and die:
Four Bush biographers, Mark Lombardi, J.H. Hatfield, Danny Casolaro, and now Gary Webb -- all "suicide" victims.
As weird as a government official car-surfing his own driverless car? Maybe not. Still pretty weird.
---
12dec2004 --
(For Jean:)
Petaluma ... I am almost running out of ways to say "homogenized suburb." Despite the chain stores and parking lots, there was the impression of Petaluma being on my side. Like Petaluma was stolen from the Man and was now the "people's suburb." Maybe it was the skate session at the Petaluma skate park: all female! Or then, prowling on the roof of the health food store, trying and failing to be surreptitious, I locked into a very cold eye contact with a man in his yard across the street. I was certain he would call the police -- and in any other suburb he would have -- but instead he just smiled and raised his hand in a friendly wave! Thank you for understanding, sir, goodnight! And earlier, in a failed attempt to crawl onto the roof of the library, I jumped onto the hood of an empty car to pull myself up, but, wait a minute ... The car wasn't empty! I looked down through the windshield into the eyes of a man ! He seemed more curious than angry, but I jumped off and ran like crazy anyway, and wondered: what does it take to get shot in Petaluma, anyway?
-- Anonymous, Evasion, p. 242-3
---
10dec2004 -- Official's bizarre death has equally odd explanation (via Cardhouse)
What would you think if you awoke one morning with superpsychic powers that revealed to you that later that day that you would die a violent death so astounding that it would probably end up on the wire services as one of those "weird news" stories? If you had a Mexican parasite working the frontal lobe of your brain, maybe you wouldn't be able to avoid it, so later that night on Camelback Road you'd just go ahead and rev your Mercedes up to 50mph, set the cruise control, clamber out the window, climb up top to roofsurf a bit, then jump off of the speeding car and slam into a tree, killing yourself. I know I probably would.
Or not; but my pal Babs and I did do some informal testing, because I was wondering how long of a stretch of Camelback Road -- which, at places, has curves -- the guy could've traveled while he negotiated himself out the window and onto the roof & such. I figured it would take him at least a minute or so, during which any number of mishaps could befall a speeding, driverless automobile on Camelback Road. Armed with a timer, we discovered that Babs -- admittedly, suffering from no (known) frontal-lobe infirmities, and being on a non-going-50mph car -- was able to get out & onto the roof (of a repair shop loaner Chevy Malibu) with arms outstretched, in about 7 seconds. On the second trial, to effect a weak simulation of 50mph, I shook the car. Still 7 seconds. Being probably closer to the size of the decedent, I gave it a try. Though I thought I was moving very slowly, my time was 7.1 seconds. Allowing for a moving car and the state of the guy's frontal lobe and our advantage of the inconsequentiality of accidentally bumping the steering wheel during our trials, we'll go ahead and triple his time allowance: we'll say he needed 21 seconds of non-crashy Camelback Road aktion to perform the feat. 21 seconds at 55mph = about 1,221 feet, which, besides being palindromic and possibly wrong because my math skills suck, is not that far short of a quarter mile. Quite a feat, even if worms are controlling your brain.
Update, 13dec2004 -- We 50mph'ed the relevant stretch of Camelback Road yesterday and decided that there would have been more than enough time for the unfortunate man to perform the actions described. Babs still considers the incident to be more likely attributable to cocaine than a Mexican parasite.
Update, 15dec2004 -- This story continues to fascinate me. This morning I decried the lack of continued coverage -- where's the toxicology report, e.g.? Why is there no television channel devoted only to this story. Or even just a website? Babs said I should write a TV movie about it. When I hesitated, she pointed at my notebook keyboard and said, "You're a writer, aren'tcha? PUSH THE BUTTONS!"
Who knew writing was so easy?
---
09dec2004 --
From Barbara Wilkins's 1983 Hustler interview with porn king and sometime murderer John "Johnny Wadd" Holmes, inspiration for P. T. Anderson's Boogie Nights and James Cox's Wonderland:
Hustler: How did you deal with the lack of sex?
Holmes: Badly. I hadn't had a wet dream since I was 16, but I returned to them in prison. You build up so much sexual pressure and tension that your subconscious releases it in your sleep – all over your jumpsuit.
Hustler: Were these erotic dreams?
Holmes: Sure. You don't have wet dreams thinking about Chevrolets.
Hustler: Were the dreams about specific people in your past?
Holmes: Of course. It's tough to come up with ones in your future.
(More at this P. T. Anderson fan site)
---
07dec2004 -- Skynet: A Miscommunication
---
07dec2004 --
We went out one evening and for some reason John tagged along, I can't remember why it was. I think he'd thought I was going to see him, I thought I'd cancelled it and he showed up at my house. But he was a mate, and he came on a date with this Celia girl, and at the end of the date she said, "Why did you bring that dreadful guy?" And of course I said, "Well, he's all right really." And I think, in many ways, I always found myself doing that. It was always, "Well, I know he was rude; it was funny, though, wasn't it?" And George Harrison was another. There was this guy called Ritter who was in our group at school, and George was in the younger group, and I remember we'd been standing around at playground and I'd tried to introduce George to Ritter, introduce him into my peer group. And [George] being a year younger it was kind of difficult. I said, "Hey, this is George Harrison. He's a mate of mine. We get on the same bus together." And we'd been sitting around, and George suddenly head-butted this friend of mine. I thought, Fuckin' hell. Now I'm sure he had a very good reason to do it. But afterwards I was going, "No, he's all right really, you know?" I always had to stick up for these friends of mine. What might have been construed as good old-fashioned rudeness I always had to put down to ballsiness. I had to assume that my mates were a little bit wimpish and that George had done the right thing, for some reason.
John played a chromatic harmonica, not a Sonny Boy Williamson blues harmonica, more Max Geldray from The Goon Show. I actually had one too but he'd been clever; he'd learned how to play it. He could play "Oh, Camptown races..." John expected to be in jail one day and he'd be the guy who played the harmonica.
-- Paul McCartney (Many Years From Now, pp. 34, 91)
---
06dec2004 --
Chilling Chevy Tales, or, How Not To Guest Host on Saturday Night Live (from Live from New York: An Uncensored History of Saturday Night Live):
Terry Sweeney: Chevy hosted the second show, and we were all so excited because, to us, Chevy was like a god; this was someone returning who'd been one of the original people and was this legendary figure. And when he got there, he was a monster. I mean, he insulted everybody. He said to Robert Downey Jr.,"Didn't your father used to be a successful director? What ever happened to him? Boy, he sure died, you know, he sure went to hell." Downey turned ashen. And then Chevy turned to me and he said, "Oh, you're the gay guy, right?" And he goes, "I've got an idea for a sketch for you. How about we say you have AIDS and we weigh you every week? It was out of place. So then he ended up having to apologize and actually coming to my office. He was really furious that he had to apologize to me. He was just beside himself. And it was just awful. He acted horribly to me. He acted horribly to everyone. When he got on the elevator at the end of the night -- you know, we all go to the party afterwards -- and everybody saw him coming, we hid. We wouldn't be on the elevator with him. We were all hiding. We were plastered against the wall going, "Oh, he's getting on the elevator, he's almost gone. Oh, he's gone." No one wanted to be near him. I don't know what he was on or what was happening to him mentally, but he was just crazy. (p. 302-3)
Will Ferrell: The worst host was Chevy Chase. He was here the first year that we were here, and then he came back the next year, and that was the kicker, the following year. I don't know if he was on something or what, if he took too many back pills that day or something, but he was just kind of going around the room and systematically riffing. First it was on the guys, playfully making fun until, when he got to one of our female writers, he made some reference like "Maybe you can give me a hand job later." And I've never seen Lorne more embarrassed and red." (p. 475)
Bill Murray: I got in a fight with Chevy the night he came back to host. That was because I was the new guy, and it was sort of like it was my job to do that. It would have been too petty for someone else to do it. It's almost like I was goaded into doing that. You know, I think everybody was hoping for it. [...] When you become famous, you've got like a year or two where you act like a real asshole. You can't help yourself. It happens to everybody. You've got like two years to pull it together -- or it's permanent. (p. 120)
John Landis: I've only been to SNL three times, and one time I was there, Chevy and Billy were having a huge screaming fight in the hallway, and Michael O'Donoghue and Tom Davis were holding them back, and John and Danny jumped in because Chevy and Billy were really going to come to blows. I mean, it was a huge argument. And the thing I remember about Bill Murray -- I don't know Bill Murray, but he's screaming, you know, foaming at the mouth, "Fucking Chevy," and in anger he says "Medium talent!" And I thought, "Ooh boy, that's funny. In anger he says "medium talent." That really impressed me. I went, "So, Bill Murray -- wow, who is that guy?" (p. 121)
---
29nov2004 -- Looking for any information about William Hartmayer (a.k.a. William Hart, a.k.a. Willi Hartmayer, a.k.a. Desert Willi), "Greatest Tenor in the World." He is the singer of an awe-inspiring song about the Mojave Phone Booth. Unfortunately, the email address listed es no bueno.
---
18nov2004 --
Turning off the Display
The unit is not equipped with the power button.
The display always appears on the window, which almost will not influence the battery life.
-- From the popular manual, IC Recorder: Operating Instructions, by the fine tech writers at the Sony Corporation
---
17nov2004 -- "What I Learned about Writing from the Movies," by Meghann Marco ("10. Writers are bad house sitters and will surely murder someone and sleep with the gardener. -- Totally untrue. This may be true for NOVELISTS, but I am not a novelist. Mansion owners of the world… REST ASSURED. I'm your woman.")
---
15nov2004 -- Best chapter title I read all week: "The Osirianization of the Hereafter"
(from J. H. Breasted's 1912 classic, Development of Religion and Thought in Ancient Egypt).
---
13nov2004 -- "I understand from a military reader that at least one Air Force base has taken to blocking the LewRockwell.com website. As with all things strictly forbidden by the state, we may be confident that this will only increase LewRockwell.com's popularity..." (Karen Kwiatkowski)
---
12nov2004 -- "Therefore, how do we try to assure "never again"? Foster freedom – reduce power at the center." -- R. J. Rummel, Nobel Peace Prize finalist & pre-eminent historian of governmental mass murder
---
10nov2004 -- For those who emailed to ask, the answer is: No. I did not vote. A choice between a jab in the right eye and a jab in the left eye isn't much of a choice; voting under these circumstances makes the right to vote about as meaningful as Stan's right to have a baby. So, no thanks.
(See also: "I'm Free Because I Voted, Right?")
---
09nov2004 -- WHAT THE FUCK IS UP WITH THE DUDE IN THE HAT? I MEAN, FUCK ME!
-- Graffito commentary on Buddy (the "The sun is SHIIIIIIIIIIININNNNNNNGGGGGGG!" guy), on the bathroom wall at Nothing, Arizona
---
06nov2004 -- Yes, Professor Cardyhouse. It does count as "healing."
---
05nov2004 -- "School-days, I believe, are the unhappiest in the whole span of human existence. They are full of dull, unintelligible tasks, new and unpleasant ordinances, brutal violations of common sense and common decency. It doesn't take a reasonably bright boy long to discover that most of what is rammed into him is nonsense, and that no one cares very much whether he learns it or not. His parents, unless they are infantile in mind, tend to be bored by his lessons and labors, and are unable to conceal the fact from his sharp eyes. His first teachers he views simply as disagreeable policemen. His later ones he usually sets down, quite accurately, as asses. It would be hard enough for a grown man, with alcohol and cynicism aiding him, to endure such society. To a growing boy it is torture." -- H. L. Mencken, quoted in an anti-government-school article by Benjamin Marks, who urges that "Libertarians should make their foremost objective to dismantle the bullshit that is taught at school and used in its defense. In effect, it serves as a brainwashing system to the protection racket we live under."
---
04nov2004 -- Last night's South Park was entitled "Something Wall-Mart This Way Comes." As usual, Parker and Stone get it right. (For the gist, see South Park's website or LewRockwell.com), except for when Stan's father holds up an axe inside Wal-Mart and says, "This axe is only $4.99."
In fact, I tried to buy an axe at Wal-Mart once. The geezer clerk, standing next to shovels, rakes, and other implements, snippily told me, "Wal-Mart does NOT sell axes." That seemed pretty weird, so I asked why on earth that would be so. "Because!" he said, as if I were a mental patient, "people ... can ... hurt themselves ... with axes!"
I directed his attention to the contents of my cart, which included many items that could be considered dangerous. For example, maybe the TWO BOXES OF SHOTGUN SHELLS. "And if I didn't already have a shotgun," I told him, "I could walk a hundred feet from here and buy one in your sporting goods department. Y'know -- where I just picked up these boxes of SHOTGUN SHELLS." He folded his arms and I left to make my axe purchase elsewhere. I thought maybe the geezer, having sized me up as a danger to society, was lying to me. But just now I searched Wal-Mart's website for axe. You can buy a CD entitled Kiss My Axe. You can buy the movie So I Married An Axe Murderer. You can buy a book called Abolition's Axe. But you can't actually buy an axe at Wal-Mart. Wal-Mart will cheerfully sell you a shotgun and the shells with which to load it. But not an axe. Weird. I'm adopting the theory that Sam Walton was descended from Lizzie Borden.
---
04nov2004 --
Messianic vision of the near future from 1987:
"I Can Speak American"
Screaming Blue Messiahs
[Intro: Muslim call to prayer, followed by the sound of a shotgun racking a shell]
Hey! Shut your mouth!
East is east, west is west
I don't know which I like the best
Gonna take my partner by the hand
Take her to the promised land
And all the people I know has said
Big rubba Dubba gonna come today
Do you like drugs?
Do you like killin'?
Do you like listenin' to "Boogie Chillun?"
Gonna fly this plane over the sea
Light it up like a christmas tree
And all the people I know has said
Big rubba Dubba gonna come today
I can speak American
I can speak American
Just like Charlie Chan
And Louis Lane and Superman
I'm a roadrunner, baby
You know what I am
I can speak American
Just like Louis Lane
And Charlie Chan and Superman
I don't like Jerry but I do like Tom
And what they did to Tom was wrong
I don't the police but I do like Kong
What they did to Kong was wrong
It was wrong
What they did to Kong, it was wrong
It was a big wrong -- a big W!
Can you wear a suit on Mars?
Yes you can, if you wear it well
I got a suit and I wear it well
"No, dummy, a space suit! It's a space suit, dummy!
Ya see the DOME? Ya see the CHROME DOME?
It's a space suit, with a big W on the front!
I can speak American
I can speak American
Just like Charlie Chan
And Louis Lane and Superman
I'm a roadrunner, baby
You know what I am
I can speak American
Just like Louis Lane
And Charlie Chan and Superman
Listen
Listen to me
A tisket, a tasket
A green and yellow basket
I wrote a letter to my love
And on the way I lost it
O solo mio
---
03nov2004 --
Post-election potpourri:
---
02nov2004 --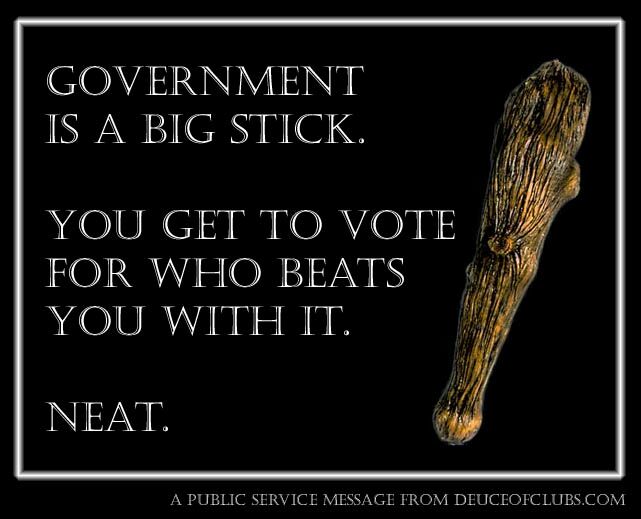 (See also 04nov2008)
---
01nov2004 -- For months I have been predicting a ten-point (popular vote) win for Bush. Do I still believe it? Not entirely. But even though Kerry is in some ways slightly less execrable than Bush, I'd rather see Bush win re-election. No, I should probably say that I'd rather see Bush win because Kerry is in some ways slightly less execrable than Bush. What will be required for getting back even very small amounts of our stolen freedom is outrage, which Bush has proven exceptionally skilled at engendering. If Kerry wins, people will stupidly think that "things will be different." Things will be different, of course -- Kerry is not Bush, Bush is not Kerry -- but they will be different in no substantial way regarding human freedom. Kerry, no less than Bush, accepts the legitimacy of tyranny. Under a Kerry presidency we will still be living under the thumb of a government that fits the very definition of fascism (as formulated by its originator, Mussolini: "The Fascist State organizes the nation, but leaves a sufficient margin of liberty to the individual; the latter is deprived of all useless and possibly harmful freedom, but retains what is essential; the deciding power in this question cannot be the individual, but the State alone"; or, more baldly, "tutto nello Stato, niente al fuori dello Stato, nulla contro lo Stato" -- "Everything within the State, nothing outside the State, nothing against the State."). Because, however, so many people in this country seem more easily to recognize tyranny from the "right" than from the "left" (when they are able to recognize it at all), they will believe a Kerry victory to have somehow improved things -- which means the instant loss of all the current accumulated capital of outrage. In contrast, another four years of "right-wing"-style tyranny might teach even supporters of "leftist"-style fascism something of the nature of human liberty.
---
30oct2004 -- "The next time you see anti-marijuana propaganda from the Partnership for a Drug Free America, remember that legal drug pushers have a vested interest in keeping illegal drugs unpopular, as indicated by the sponsors of that organization. The following statistics have most likely risen since the time period they cover, 1988-91: The Partnership received $150,000 each from Philip Morris (Miller Beer and Marlboro cigarettes), Anheuser-Busch (Budweiser) and R.J.Reynolds (Camel). Other contributors: American Brands (Jim Beam and Lucky Strike), Pepsico and Coca-Cola. Contributing pharmaceutical companies included Bristol-Meyers Squibb, CIBA-Geigy, Dow, Dupont, Glaxo, Hoffman-LaRoche, Johnson & Johnson, Merck, Pfizer, Schering-Plough, Smith-Kline and Warner-Lambert. Publishing companies Time-Warner, Dow Jones and the Reader's Digest also contributed funds...." -- Paul Krassner, Pot Stories for the Soul, p. vii.
---
28oct2004 -- "I've also found that running is a very, very bad idea in a casino. If you just stand on one end of a casino, and take off along the carpet, as fast as you can, all sorts of people who just looked like regular citizens, all of a sudden, you find out, jeez ... they're working here! And they'll grab you, and they will just stop you for just plain running. That's something that's going to make them nervous. A friend of mine was running to get a pack of smokes before a show, and was afraid he was going to miss the opening number, which had a lot of pussy in it, so he went across the casino at full speed, and was stopped by six people within 50 yards." -- Penn Jillette (quoted in Etiquette for Outlaws, p. 32)
---
26oct2004 -- Oddly similar warnings from two widely divergent sources: "Prepare for civil unrest America on and/or after election day," writes J. J. Johnson of the Sierra Times; "This next presidential election, on November 2, may be followed by post- election chaos unlike any we've ever known," says John Dean, former counsel to President Nixon.
---
25oct2004 --
"The powers not delegated to the United States by the Constitution, nor prohibited by it to the states, are reserved to the states respectively, or to the people."
That's the U.S. Constitution talking, there, and what it says is that any powers that the states did not in that document explicitly grant to the government in Washington are forbidden to it.
So how does the hulking federal bureaucracy we know today justify itself, constitutionally speaking?
Believe it or don't, nearly every single unconstitutional law and regulation the Washington politicians and bureaucrats force upon the people relies for its legal justification upon these few words from the Constitution (which are generally referred to as the Interstate Commerce clause):
The Congress shall have power ... [t]o regulate commerce with foreign nations, and among the several states, and with the Indian tribes....
I was well past the age I ought to have been when I learned that all a politician or judge has to do is pretend to find a connection between almost any activity and the broadest possible idea of what constitutes interstate commerce, and BOOM! there's another federal grab. For example, Federal investigators might sweep in to take over a criminal investigation because some component alleged to be involved -- say, the light switches in a building -- were made in a state other than that in which the crime took place. (What percentage of your home and its contents do you suppose is composed of materials entirely originating in the state in which you live?) Because of those from-out-of-state light switches or nails or timbers, someone accused of arson might find himself charged instead with, say, "Seven counts of extortion affecting interstate commerce. Seven counts of use of fire to commit a federal felony. Eight counts of arson of a property used in interstate commerce." ("It doesn't have to be called domestic terrorism," says Ed Hall, spokesman for the FBI's Phoenix division. "If someone is trying to effect social change, it would give us jurisdiction.")
Sound like something out of the film Brazil? Welcome to Brazil.
Amazed? Is there hope?
Maybe. This issue is about to come up for review by the Supreme Court:
"In a case the U.S. Supreme Court is scheduled to hear next month, it will decide who should have won that argument. Its decision will hinge on how broadly it reads Congress' authority to "regulate Commerce...among the several states," the constitutional basis for the Controlled Substances Act and the main pretext for expanding the federal government since the New Deal." http//www.reason.com/sullum/100804.shtml
Obviously, given that the central government's judiciary is exactly that -- an arm of the central government -- there is probably about 0.00000001% chance that the supreme dorks will in any way alter or diminish the concept of interstate commerce regulation as it has been hyperabused now for almost 3/4 of a century. [Update, jun2005: They didn't.] But it would be nice to draw things to a head, or at the very least force the Feds to lay open their massive con game (if only in a small way, and only for the few who are watching.)
---
24oct2004 -- The Cardhouse Robot sent along a link to a clip of Ashlee Simpson walking off the stage at Saturday Night Live after her lip-synching plans went awry, just like Milli Vanilli did in 1990. Strangely, right after the tape mishap, Simpson does what she later calls a "ho-down" dance, but which looks curiously similar to the twee dance Milli Vanilli made famous in their videos. Intentional? Simpson gets cool points if it was, and boy does she ever need them, but it wouldn't matter because you lose your cool points for skulking off the stage during a live broadcast.
---
20oct2004 -- My friend Lynda, on her 11-year-old: "Speaking of music, Ivy's starting to rawk on her electric guitar. She asked Jaime and Matt if they knew who Ned Zeflin was and was he cool?"
---
Randumb: Now, with Permalinks -- O my stars. You can now link directly to any Randumb spouting. The excitement is palpable. Touch the excitement. TOUCH IT!
---
20oct2004 -- In [Bowling for Columbine], shortly after an interview with [Matt] Stone ... [Michael] Moore added a short animated history of America that showed white Americans as gun-loving and afraid of everything. [Trey] Parker and Stone claim that the placement led people to believe that they were responsible for the animated short. They had nothing to do with it. "He made it look like we did that cartoon because he put it on after Matt," Parker said. "The cartoon was so anti-American and mean, I was really bummed out that people thought that I did that. When Fahrenheit 9/11 came out people said he was a manipulator and a liar. I realized that he fucking is and he did it to me personally." Stone added, "He put me and that cartoon together to create a meaning that wasn't there. He does that in a lot of his films." -- Chris Fanning, in College Times
---
15oct2004 -- Call me a cranky libertarian conservative, but just once I would like to hear a candidate for president answer a question by saying, "Sorry, the Constitution limits the role of the federal government -- the issue you're asking about is one for the states or the private sector, not Washington."
There was no talk of limited government last night. Instead there was talk of: firehouses not having enough firefighters, a shortage of flu vaccine, the rise in health insurance premiums, how laid-off workers should attend community college, the need for more grade-school math and science, the high price of gasoline and medicine, a minimum wage for unskilled workers, education for parents who don't speak English -- and those are just the ones I managed to scribble down. There was even a mention of ceiling fans from China. Where does the Constitution say that any of these are properly the concern of the federal government? -- Jeff Jacoby, Boston Globe
---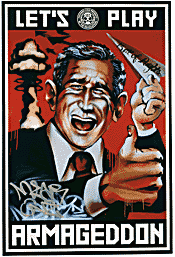 12oct2004 -- Come for the presidential debate, stay for the presidential shoes:
Tomorrow the pretend presidential debate charade (did you know that bona fide candidates for president who are not Republicans or Democrats can get arrested for trying to debate their opponents?) comes to Arizona State University, but the front page of ASU's Presidential Debate website wishes to make sure you are aware of:
Featured Events
Shoemakers to the Presidents The Johnston & Murphy Presidential Shoe Display
Memorial Union, 2nd level,
Oct. 5 - 15, 2004
ASU is also hosting an exhibit called "Democracy in America: Political Satire Then and Now," from which, predictably, a number of anti-Bush pieces (such as Mear One's Let's Play Armageddon, at right) were eliminated.
I'll be escorting Wagner to the Michael "The Enemy of My Enemy Is My Friend" Moore shindig in the afternoon (because we have backstage passes & will try for a Wagner photo), but I'm hoping to get over to Tempe in time to be locked into the Free Speech Cage.
14oct2004 -- We didn't get caged, didn't get arrested, but we got some. O did we get some.
---
11oct2004 -- Earnest hilarity: Sean Penn miffs off to Matt Stone and Trey Parker. When you can snatch the petulance from the hand of Sting the Tantrum, oh, sorry, Tantric Master, it will be time for you to go.
---
09oct2004 -- "Hello, we're George Bush and John Kerry. We'd like to apply for the job of Chief Executive, the job whose duties are outlined in the Constitution...."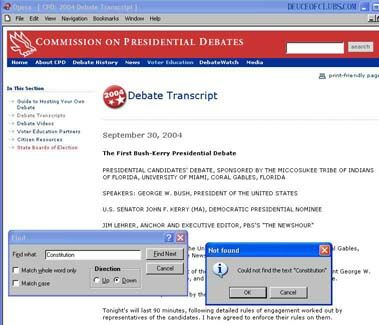 (Enlarge)
(See also)
---
07oct2004 -- "Oooh! Oooh! He HOITED me! Th' BAD MAN maded me see MAN-ASS wit my widdo eyes & now I gonna HOIT HIM BACK!"
So said, in effect, a Connecticut Superior Court Judge, the honorable <snort> Patrick L. Carroll III, by petulantly sentencing a man who mooned him in court to an extra YEAR in prison. I'm sure Patrick L. Carroll III's having to view a man's backside was a blow to his delicate constitution (constitution, Judge Carroll -- that's a word you'll no doubt have to look up in a dictionary, your asshat honor). But is it worth a year of a man's life? I don't care who the guy was or what else he has done. How any intelligent person can have anything other than contempt for courts is beyond my ken. (I do have ken. And that ... is beyond it. Selah.)
I say that Patrick L. Carroll III -- and any judge who tries to pretend that "contempt of court" is anything other than a natural human response to an injustice-enforcing institution -- ought to be sentenced to the hellholes where judges put pot-smokers and other non-criminals. There these judges can learn to be comfortable with, oh, all sorts of human anatomy.
Judge: Are you trying to show contempt for this court?
Mae West: No, your honor, I'm doin' my best to hide it!
-- From a courtroom scene in My Little Chickadee (1940), approximating something Mae West actually said to the judge during her 1927 obscenity trial (concerning her Broadway play Sex)
A CALL TO ACTION
Citizens of Connecticut! I call upon you to moon Patrick Carroll at every opportunity. Follow him to where he has lunch. Follow him to where he takes his smoke breaks. Follow him to where he shops for pornography. Then moon the contemptible fool.
Any and all photos of Patrick Carroll moonings will be promptly published on deuceofclubs.com.
If you are too far from Connecticut for Patrick Carroll to see your ass, but would still like to show your contempt for Patrick Carroll via postal mail or telephone, why, here ya go:
Patrick L. Carroll III
J.D. & G.A. 22 Courthouse
14 West River St., P.O. Box 210
Milford , CT 06460
(203) 283-8246
(203) 876-8072
---
05oct2004 -- PIXIES PIXIES PIXIES I MADE YOU OUT OF CLAY but I forgot to mention seeing you in Mesa the other week. You sounded like you did back in tha day. That's the best review you could get from someone who used to work for an airline & would fly to your shows all over the place, like some whacked-out jet-setting hippie or something. Plus, I knew my long-lost pal Diane was going to be at this show -- though when I got there & saw how packed Mesa Amphitheatre was, I knew there was little chance of finding her. So when the show started, we wandered around till we spotted a place on the grass at random, in the dark. Randomly, right next to Diane. Pixie dust. Poof.
And last night: El Vez.
---
01oct2004 -- In honor of the recent visit to Detroit, Detroitfunk sends along a Big Boy shoutout. Muchas gracias!
---
01oct2004 -- If you're in Colorado, you have an excellent opportunity to hassle some no-necked racist morons.
---
30sep2004 -- Homeland hegemony: "Why the Congressman Wouldn't Drive Me Home" and "Top 10 Secrets They Don't Want You to Know About the Debates" (My personal favorite is #6: "The debate contract effectively excludes all other serious presidential candidates from participating in the debates.").
---
27sep2004 --
Down below, down below
Sat the devil talking to his son
Who wanted to go
Up above, up above
He cried, "It's getting too warm for me down here and so
I'm going up on Earth where I can have a little fun!"
The Devil simply shook his head and answered his son:
"Stay down here where you belong
The folks who live above you don't know right from wrong
To please their kings they've all gone out to war
And not a one of them knows what he's fighting for."
"Way up above they say that I'm a Devil and I'm bad
Kings up there are bigger devils than your dad
They're breaking the hearts of mothers
Making butchers of their brothers
You'll find more hell up there than there is down below
"Kings up there, they don't care
For the mothers who must stay at home
Their sorrows to bear
Stay at home -- don't you roam
Although it's warm down below, you'll find it's warmer up there
If e'er you went up there, my son, I know you'd be surprised
You'd find a lot of people are not civilized"
"Stay down here where you belong
The folks who live above you don't know right from wrong
To please their kings they've all gone out to war
And not a one of them knows what he's fighting for."
-- Irving Berlin, "Stay Down Here Where You Belong" (1914)
---
24sep2004 -- My TV broke. I renewed my library card. Did you know they expire after like three years? So, I've rediscovered reading!
And it's really BORING. -- Max (09sep2004)
---
17sep2004 -- Many, many thanks to Russ (of IBAB), who solved our server-side include problem without even knowing about server-side includes!
---
17sep2004 -- Brad Templeton writes:
"Well, the Mojave booth may be gone, but we built an even more remote booth for a while, using satellite, 802.11, SIP and a used pay phone.
The story is here, if you are curious.
(Brad's entire site is highly recommended.)
---
16sep2004 -- Into google I morbidly typed site:www.saferparks.org death.
The first hit was this story about an Oklahoma woman's 17-year-old son dying while working as an amusement park ride operator. In answer to the question, "Describe the emotional/psychological impact of the accident/injury," she responds:
"The ride of grief is like a roller coaster. There are ups and downs, twists and turns at unexpected places and times. You think you've gotten off and walked on down the way, only to find yourself back in the seat again at times."
Are these carny people, or what?
---
15sep2004 -- A chiming van just went by that was marked ROBERT'S TATTOOS & ICE CREAM. I wonder whether I am in the kind of place where I can assume we're talking about temporary tattoos?
Also: Ask the monkey all about it.
---
14sep2004 -- This is rich:
Within the past ten years it has become conventional wisdom among the left that we can get all of the benefits of raising the minimum wage "a reasonable amount" without increasing unemployment. This amounts, of course, to an assertion that we can easily put aside economic law. An increase in the minimum wage will not benefit all low income workers. It will help only some of them at the expense of others. Why is this so? Well, economic law tells us that if the price of any good increases, people will want to buy less. This is true for gasoline. It is true for apples. It is true for iPods. It is also true for labor services.
Even the "living wage" zealots at ACORN recognize this. [NOTE: ACORN is the Association of Community Organizations for Reform Now; according to their website, they are "working to pass across-the-board minimum-wage increases at the local, state, and federal levels." -- DoC] In 1995 ACORN sued the state of California to get itself declared exempt from California labor law, so it would not have to pay the minimum wage to its own employees. In its brief submitted to the Court of Appeal, ACORN argued, "The more that ACORN must pay each individual outreach worker -- either because of minimum wage or overtime requirements -- the fewer outreach workers it will be able to hire." As Bud Abbot says to Lou Costello in their "Who's on First?" routine, "Now that's the first thing you said right!"
Employers cannot simply pay any old wage that makes workers happy. Businesses are constrained by the value that the workers add to the firm. If a worker's contribution to the firm is such that his output brings in revenue of $5 for every hour of his output, the business cannot afford to pay him any more than that and still break even. If he is forced to pay this employee $7 an hour, he is losing $2 an hour every hour that worker is employed. A minimum wage increase provides an incentive to hand him the pink slip.
That worker will soon be on his way out the door, most likely cursing his employer instead of the government mandated minimum wage. The direct result of a minimum wage above the market wage is mass unemployment for relatively less skilled workers. The number of workers who want to work increases, but the quantity of laborers that employers can afford to hire falls. The result is more people wanting to work at the minimum wage than can get hired. In other words, we get unemployment.
---
11sep2004 -- Greetings and welcome to 9/11. Again. And again. And again. And once more: again.
---
09sep2004 -- If Thomas Jefferson were running against Bush and Kerry, wouldn't you have to be crazy not to vote for Thomas Jefferson? Why, then, vote for Bush or Kerry when you can vote for someone who, as president, will act upon Thomas Jefferson's core principles?
(Of course, you can withhold your vote in protest of the whole ridiculous system, as I will likely be doing.)
---
01sep2004 -- Regarding my previously mentioned brief and abrupt appearance on HBO: an update.
---
24aug2004 -- Offered by way of excuse for the update drought these past four or more weeks: the strong conviction that my being laid low all this time is assignable to West Nile Virus or Valley Fever (or, as my friend Babs calls it, "Your mad cow disease, or whatever").
---
23aug2004 -- If you received a couple of strange voicemails this morning, it could be because last night, when you were buying many, many bottles of booze, you dutifully gave the grocery store clerk your phone number when asked, which was still stuck in the mind of my cellphone-owning cohort as we walked to the car. It didn't hurt, though, that as you loaded the booze bottles into your SUV you mishandled one, which made a heartbreaking sound when it was dashed to pieces on the asphalt.
Too bad you gave up your office number instead of your cell number. But I wonder what you thought when you got to work this morning & heard:
"This message is for BUTTAFINGAHS. WAY TO GO, BUTTAFINGAHS!" (Which we left while you were still in the parking lot picking up pieces of broken dreams.)
Wonder who you called this morning with bitter recriminations after you listened to this one:
"Heyyyyyy BUTTAFINGAHS: The hobos of the world decry your WANTON WASTE OF GOOD ALCOHOL!"
Good ol' boredom on a Sunday night: you go out driving in search of the source of those multiple rapid-fire small calibre gunshots that freaked out the dog, and you end up harassing some poor central Phoenix boozehound.
---
18aug2004 -- From "Price Gouging Saves Lives": Nobody knows the local circumstances and needs of buyers and sellers better than individual buyers and sellers themselves. When allowed to respond to real demand and real supply, prices and profits communicate the information and incentives that people require to meet their needs economically given all the relevant circumstances. There is no substitute for the market. And we should not be surprised that command-and-control intervention in the market cannot duplicate what economic actors accomplish on their own if allowed to act in accordance with their own self-interest and knowledge of their own case.
But we know all this already. We know that people lined up for gas in very long lines during the 1970s because the whole country was being treated as if it had been hit by a hurricane that was never going to go away. We also know that as soon as the price controls on gas were lifted, the long lines disappeared, as if a switch had been thrown restoring power to the whole economy.
One item in very short supply among the finger-wagging newscasters and public officials here in central Florida is an understanding of elementary economics. Maybe FEMA can fly in a few crates of Henry Hazlitt's Economics in One Lesson and drop them on Bob and Martie and all the other newscasters and public officials.
---
16aug2004 -- I will tell you that I watch Road Rules sometimes. Sometimes it is amusing, as when tonight, on a pairing-up-type mission, some of the contestants suggested they pair up based on equal body weight, so that they would "fall at the same rate of speed."
Road Rulers, meet astronaut David Scott. ("How about that? Mr. Galileo was right," concluded Colonel Scott.)
Either the Road Rulers are Hare Krishnas, or they don't teach Galileo in the public schools these days.

---
13aug2004 -- Late last night I was watching Naked States, an HBO show about Spencer Tunick's mass naked pictures. One segment, filmed at Burning Man 1997, has Tunick asking a reluctant woman to pose. Afterwards her friend says, "She's acting all coy & everything, but she's naked all the time!" And I realized -- hell, *I* took pictures of that woman naked.
Then, not half a minute later, there's a shot of a guy on a small bike & a guy on a tall bike riding toward the camera. It's me on the Cream Pedaler and my pal Cheetah Frenzy on his little pink girl bike.
That was weird.
Any chance someone could pull that clip for me?
Update, 01sep2004 -- Now, courtesy of Brendan (whom you may remember for giving Wagner his fab-o tour of Pixar Studios), you can experience the shock of recognizing someone you've never seen, right there on your HBO.

---
10aug2004 -- Sixty seconds of stupid
If everyone would merely laugh at people who claim to hold power, we'd be free in no time. A bunch laughed the other day at the UNITY: Journalists of Color Convention (huh?) when Ethelbush the Rethless was asked to define the phrase tribal sovereignty:
"Tribal sovereignty means that. It's sovereign. I mean, it's ... you're a ... you're a ... you've been given sovereignty, and you're viewed as a sovereign entity. And, therefore, the relationship between the federal government and tribes is one between sovereign entities."
Obviously, this is:
(a) tautological (a definition consisting of "this is this" doesn't fly, even in a Hollywood movie)
(b) bullshit (no tribe inside U.S. borders is sovereign in any but name only -- hell, even the states themselves are no longer sovereign entities)
(c) evidence (as if more were needed) that people elected to high office have no understanding whatsoever of political philosophy.
Bush's fumbling was reminiscent Dan Quayle's attempt to enlighten the masses regarding representative government:
"Our government, unlike many governments -- and particularly the governments of where ... [You can hear how completely at sea he is here -- where DID those people come from? Watch how he tries to get out of it:] ... the people that founded this country came from -- is a government that is derived from the people. The consent to govern. The freedom that is based in the people ... that then elect their representatives to represent them in a free, representative democracy that we have today."
(You can easily find mp3s of both of these fine snippets of dummydom on the web. They're thirty seconds apiece and thirty seconds of you really do need to hear these. Yes, I meant to say that.)
---
05aug2004 -- The Draft
You can use whatever words you like to describe it -- "taxes" or "fair share" or "public burden" -- but it does not change the fact that the situation in which people are forced to surrender money for which they have worked is involuntary servitude -- just as military conscription is, just as chattel slavery is. In this sense there is always a draft, and has been ever since 1913. If you earn money in this country, you are conscripted: on average, a person in the U.S. works into the month of May to pay the money to finance their own enslavement. If you want to deny that that is involuntary servitude, there's an easy way to find out: make taxes voluntary -- and not in the IRS's disingenuous use of that word, but truly voluntary -- and see how many people are willing to work months and months every year for nothing. Anyone who isn't willing to do so is therefore, under the current scheme, no more than a sharecropper, chained in involuntary servitude for about 42% of each year.
---
04aug2004 -- Other than yesterday's sweet musings of a muzzled Limbaugh, it's been an unimagination kick here lately at the ol' D.o.C.: unimaginative city names, unimaginative album covers, and now ... unimaginative album & book titles. So who in hell asked me, anyway?
---
03aug2004 -- The other day I had the unfortunate experience of overhearing a segment of Rush Limbaugh's idiotic program, which I managed to endure by imagining the permanent installation of a logician in Limbaugh's Emptiness in Broadcasting studio. The logician would have a live microphone and a button activating a muzzle that would stop up Limbaugh's mouth every time the logician needed to pause the show in order to point out which logical fallacy Limbaugh was currently committing.
In this scenario I would predict muzzle button failure inside of a week.
(Question: Is there any existing tawk radio show on which a poor muzzle button could feel safe from an uninvited in-house logician?)
---
31jul2004 -- KAKHA BENDUKIDZE FOR PRESIDENT
True, he is from a foreign country. But that foreign country is called Georgia. We have a Georgia here. Close enough?
What is important is that what is going on in Georgia the country sounds far better than what is going on in Georgia the state -- or in any of the fifty states here:
"... [Bendukidze] is cracking ahead, doing everything that businessmen must dream of making governments do. He says that Georgia should be ready to sell "everything that can be sold, except its conscience". And that is just the start.
Next year -- if not sooner -- he will cut the rate of income tax from 20% to 12%, payroll taxes from 33% to 20%, value-added tax from 20% to 18%, and abolish 12 kinds of tax altogether. He wants to let leading foreign banks and insurers open branches freely. He wants to abolish laws on legal tender, so that investors can use whatever currency they want. He hates foreign aid -- it "destroys your ability to do things for yourself," he says -- though he concedes that political realities will oblige him to accept it for at least the next three years or so.
As to where investors should put their money, "I don't know and I don't care," he says, and continues: "I have shut down the department of industrial policy. I am shutting down the national investment agency. I don't want the national innovation agency." Oh yes, and he plans to shut down the country's anti- monopoly agency too. "If somebody thinks his rights are being infringed he can go to the courts, not to the ministry." He plans, as his crowning achievement, to abolish his own ministry in 2007. "In a normal country, you don't need a ministry of the economy," he says. "And in three years we can make the backbone of a normal country."
Find me such a "normal country" and I would happily emigrate.
---